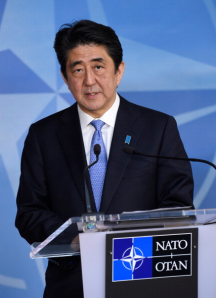 In 2020, Tokyo will host the 32nd Summer Olympics — and perhaps the world's first robot Olympics, if Japanese Prime Minister Shinzo Abe gets his way.
"In 2020 I would like to gather all of the world's robots and aim to hold an Olympics where they compete in technical skills," the Prime Minister is quoted as saying to local media.
What could these robotic technical skills include? We hope they will skew more on the ping pong tournament end of the spectrum, rather than box-packing or wifi-beaming.
Speaking at a robotics factory in the Japanese city of Saitama, Prime Minister Abe reportedly announced plans for a task force to kickstart the country's robot production.
"We want to make robots a major pillar of our economic growth strategy," he said.
If the Prime Minister's dreams of a robot Olympics do come through, we think we know who should emcee the opening ceremony.
[h/t Yahoo Sports]