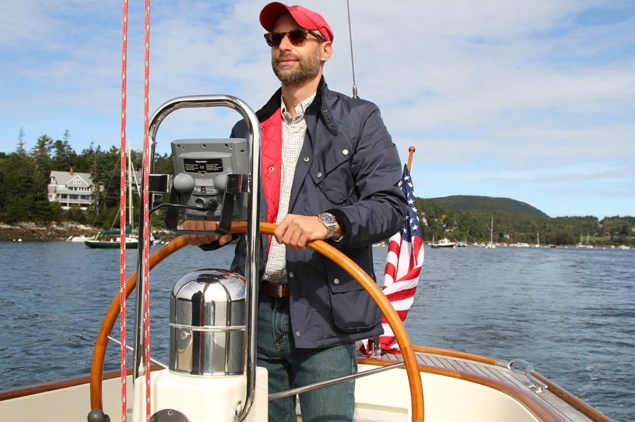 ON WEEKENDS, THE WAYFARER CAFE IS THE SOCIAL hub of Cape Porpoise in Kennebunkport, Maine.
Locals wait for tables on the porch, while career waitresses shuttle plates of biscuits and sausage gravy across the floorboards. A vintage photograph of presidents 41 and 43 hangs as a nod to the nearby Bush family compound.
One customer who doesn't have to wait is Jared Paul Stern. In white Levi's, a shawl-collar navy cardigan and narrow-brimmed Panama hat, he is the most dapper man in the place.
Mr. Stern consulted on the design of The Wayfarer, which recently renovated under new owners. He points out the wooden counter he suggested, the lighting, the card he designed; he even sourced the Bush picture. Until last summer, he operated an antiques store out of a barn in this tiny village, that is, between freelance writing and his steady job editing Urban Daddy's auto blog, Driven.
| | |
| --- | --- |
| Mr. Stern, 43, describes his life as being at "a new pinnacle." He has toned down the film noir wardrobe and attitude from his Manhattan days—no more fedoras—but maintains a flair for haberdashery. | |
It's a very different life from the one he had eight years ago, when Mr. Stern was picked up by the scruff of his neck and thrown out of New York City.
Then a New York Post gossip writer, he was accused of trying to extort $220,000 out of billionaire Ron Burkle in exchange for favorable coverage in the Page Six column. Along with the Jayson Blair incident at The New York Times, it was the biggest New York newspaper scandal in decades.
Although a freelancer, Mr. Stern was the top lieutenant of former Page Six boss Richard Johnson. His name would appear at the top of the column when Mr. Johnson was away.
Mr. Stern was taken by surprise on the day in April 2006, when The Daily News called, seeking comment on the extortion allegations. Rattled, he left to meet with his lawyer just as Mr. Johnson was summoned by the Post's editor-in-chief. The two haven't seen each other since.
It was the front-page story on The Daily News for days. The Times pushed the story forward, the Today show tried to book Mr. Stern, jokes about him made it into The New Yorker and the Post's troubles became the subject of a David Letterman Top Ten list. The whole country—except for the Post—was laughing along.
But he was never charged with a crime, and he maintains his innocence to this day.
"I definitely got drawn into talking about some shit with Burkle that I shouldn't have," Mr. Stern says. He admits he sought the money but insists it was a legitimate investment in his side project, a range of preppy, faux-edgy polo shirts and accessories called Skull & Bones. 
Mr. Stern hoped the fashion line would be his ticket out of gossip, but it became the ribbon belt he hung himself with. Improbably, the 2006-era Skull & Bones website is still online: "Call it prep-punk if you will, wear it if you dare, and remember: Admit Nothing. Blame Everyone. Be Bitter. And Look Fabulous."
It's almost too neat a description of what happened to its designer.
Mr. Burkle had a different idea about why Mr. Stern was asking for money. The California groceries billionaire and Democratic fundraiser was sick of unflattering mentions in Page Six, disparaging his dating life and business relationship-cum-friendship with Bill Clinton. He sent a letter of complaint to the Post's owner, Rupert Murdoch, but according to Mr. Stern, the letter was ignored.
So Mr. Burkle devised a sting, secretly videotaping a conversation linking his $220,000 "investment" to "protection" from Page Six.
"It's a little like the mafia: a friend of mine is a friend of yours," Mr. Stern was quoted as saying in The Daily News transcript of the tape.
'When we're driving around
in my car especially,
we get stared at. We joke that we must look like aliens: visitors from a more stylish planet. Maine's got a thing, but it doesn't take
too much to
stand out.'
Mr. Stern claims he also told Mr. Burkle, "You can't pay for protection. You can't buy it, and I'm not selling it," but that portion of the tape was never released.
Additionally, during the meeting, Mr. Stern was offered wads of cash, which he refused to take. Reviewing the evidence, the attorney general declined to prosecute. Yet the damage was done.
Mr. Stern was fired, and the Post closed ranks against him. Overnight, he was unemployable.
But it wasn't over yet.
Mr. Stern's socially ambitious wife, Ruth Gutman ("if I was going to choose what I was having for dinner, it'd be oysters and champagne, not soup and grilled-cheese sandwiches," she told the Observer the month the scandal broke), was obliged to get a job to pay the mortgage on their Catskills home. 
Often referred to in Mr. Stern's writing by the nickname Snoodles—per his trademark 1940s affectation—she went to work at a decidedly unglamorous local operation that made hand cleaner.
But Snoodles began sleeping with her new boss, according to the later-jilted lover. When the affair soured, her lover sent sexually explicit pictures to several New York gossip blogs.
The couple retreated to her home state of Maine, but an acrimonious divorce followed.
Today, Mr. Stern, 43, describes his life as being at "a new pinnacle." He has toned down the film noir wardrobe and attitude—no more fedoras—but maintains a flair for haberdashery. 
Still trim and with a porcelain complexion, Mr. Stern seems grayer (although he did not remove his hat during the two days I spent with him) and more wary—in a slightly wounded way—than he was in his gossip heyday. His darting brown eyes retain the facile (some might say shifty) glance that I remember. 
He is warm, to a point. His manner suggests a man who has had something big taken away from him, for reasons he still doesn't understand.
But exile in a less-expensive province has only bolstered his lifestyle. He keeps an apartment in Portland plus a summer rental on the water at Cape Porpoise. He winters at his mother's house in San Miguel de Allende, Mexico.
This week he was in Ibiza, Spain, for the opening of a Hard Rock Hotel. International automakers fly him in to test-drive their latest luxury releases, like the new Rolls-Royce Wraith in Austria. His own ride is a swanky 2012 Range Rover HSE—"the same kind the Queen has"—which he uses to transport his new girlfriend, an attractive blonde from Portland with a bureaucratic job. 
"When we're driving around in my car especially, we get stared at," says Mr. Stern. "We joke that we must look like aliens: visitors from a more stylish planet. Maine's got a thing, but it doesn't take too much to stand out."
From his vantage of mid-life satisfaction, Mr. Stern claims to have scored a kind of victory over Ron Burkle.
"Okay, he took me down," he says, as The Wayfarer's eggs benedict arrives. "But at the end of the day, Burkle lost big."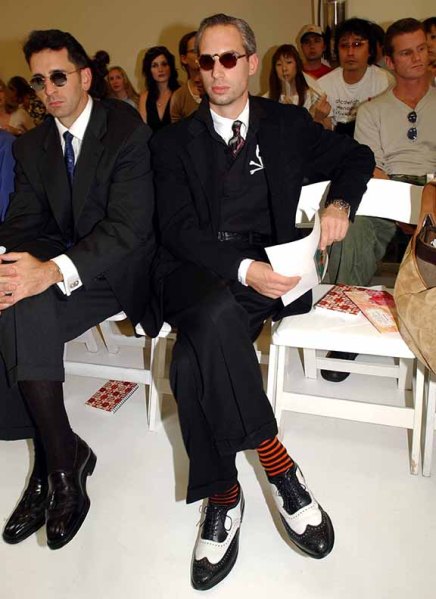 "So a part-time gossip columnist lost his freelance job for a little while. And this guy [Mr. Burkle], who never wanted to be in the newspaper, was then a front-page name, synonymous with sleazeball. And he lost his best employee"—meaning Bill Clinton, who, Mr. Stern believes, distanced himself from the billionaire as a result of publicity around the scandal.
"I wasn't the real target. He was pissed at Murdoch. So he pissed off Murdoch for all of 15 seconds and now has made the world's most powerful man an enemy for life. Well done!"
Mr. Stern is less vehement about the standards of his own conduct in the case.
"I don't see that the ethics of The New York Post would have prevented that situation," he says of soliciting an "investment" from Mr. Burkle.
In his unpublished memoir, Empire of Dirt: Inside Page Six and the Gossip Mafia, he writes: "In the ten-plus years I worked at the Post, I can't recall the word 'ethics' ever being mentioned, except in a pejorative sense or as the punchline to a joke."
I asked why his personal ethics didn't prevent him from asking Ron Burkle for money.
"I didn't really—" he began and paused as a waitress wearing bacon-and-egg earrings refilled the coffee. "I didn't really consider it from that angle too much."
In New York media circles, attitudes about Mr. Stern remain hostile—especially at the Post.
"What he did was so out of bounds," says one former colleague, who was in the newsroom the day Mr. Stern left for the last time. "I don't think he's a result of the ethics at Page Six. I think it's a result of his own social pathology."
Another said, "I despise him. He has never taken responsibility for what he did."
***
MR. STERN'S PAST IS NOT UNKNOWN IN MAINE. Kazeem Lawal, proprietor of Portland Trading Co., is a gregarious Nigerian who might be the other best-dressed man in town.
"Jared is quiet but imposing, and people are naturally curious about him," he says. "So they look him up online, and—'Did you know Jared was involved in this?'"
"But everyone has their own journey in life. You could be an old Hoboken gangster and if you moved to Maine, as long as you're cool with me, I'm cool with you."
Somewhere between these character assessments is Ian Spiegelman, another former Page Six freelancer. He was fired from the column in 2004, after threatening a subject over email. (Disclosure: I also worked as a Page Six stringer for about 18 months around 2000. Subsequently I wrote gossip for The Daily News, where I was employed during the Burkle scandal.)
Mr. Spiegelman described a culture of side dealing at Page Six, where writers routinely made money from script development or book deals financed by the same entertainment moguls they covered.
"There was an undercurrent of payola," he recalled. "Jared just thought, 'We're at this Page, we make deals with people, we do things that are not like what other journalists would do.'"
"Nobody told him, 'Don't do it with somebody that you're constantly writing dirty shit about, who's a billionaire and can crush you with their hands,'" Mr. Spiegelman said from his home in Florida. "And that's exactly what happened. He got crushed."
Still, "I always figured he'd get it back together," said Mr. Spiegelman. "I think the divorce made him rethink things."
Mr. Stern admits to some dark days after the scandal broke, when he wasn't always thinking clearly. In 2007, he filed a quixotic lawsuit against Bill and Hillary Clinton, The Daily News and its reporter, William Sherman, plus Mr. Burkle, his publicist and a private investigator.
"Plaintiff claims that the Clintons participated in the plot by using their influence and position to involve federal authorities," the suit contended, without elaboration. It was thrown out.
Another project was the memoir about his Page Six experiences, picked up by a Simon & Schuster imprint. But Empire of Dirt stalled after one draft.
"What they were after was not what I was interested in writing," he says. "They wanted something more Paris Hilton-y."
The draft, which Mr. Stern shared with the Observer, contains no soul searching about his ethics but plenty of disgruntlement about his treatment by the Post.
"Richard displayed a disappointing spinelessness in failing to stick up for a loyal comrade," he writes.
The Post's response to these allegations? You can't always believe what you read.
A spokeswoman emailed on Friday: "This is not worthy of comment, given the source."
Early on, Mr. Stern trills that, "Exaggeration, taking things out of context and willfully misinterpreting otherwise innocuous quotes are the hallmarks of many a classic Page Six item." But later, he complains bitterly of Burkle's "allegedly incriminating, out-of-context soundbites, which the News gleefully regurgitated." Self-awareness was never a strength of the Page.