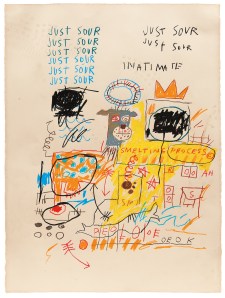 This show of 21 drawings and two paintings by Jean-Michel Basquiat from the collection of Herbert and Lenore Schorr, organized by Fred Hoffman, is invigorating and heartbreaking. And for anyone interested in gaining a fuller understanding of an artist who has recently become fashionable again, it should be required viewing.
Most of the works date to the first half of the 1980s, when Basquiat was in his early to mid 20s. They are densely packed with images and writing: quick sketches share space with lists, poems and stories.
In his paintings, Basquiat used oil and acrylic to attack and conceal, making rough marks to form the inimitable heads, bodies, monsters, dogs and skeletons that seem to pop off his paintings' surface and obscure much of the frenetic activity humming away underneath. In the drawings, though, all is revealed. In the best of the pieces here at Acquavella, you get a close-up view of that action, the rare chance to survey the tight network of ideas, signs and symbols that undergird Basquiat's art.
Two- and three-word phrases glide down pages in his trademark sharp scrawl—"just sour," "Smelting process ©," "inatimate" (perhaps an elision of inanimate and intimate?) in a jumpy 1982 number. (All the drawings are untitled.) Those words hint at moods, scenes and people; there's often a dark, strangely familiar tang to them. "One or two words containing a full body" is how the late poet Rene Ricard once put it, writing about Basquiat's work.
There are schematics (one for what looks like a stereo system), maps (to the Schorrs' Westchester home), what appear to be preparatory compendia (with hints of humor: some goofball faces, a cute pig, "invaders of Krypton"), the odd telephone number and an epic boxing match (a crowned figure pummeling the challenger).
There's also a tall, grimy portrait, all quick scratches, of a king with an almost doglike face, surrounded by a field of tiny stars, scribbles, lines and texts ("Mr. Mr. Mr. Mr. Mr.…") and two beasts, one ferocious, the other beleaguered. It's 60 by 40 inches and a masterpiece of emotional turmoil. Basquiat let the world into his art to a degree that few contemporary artists have dared. Since his death of a drug overdose in 1988, no one else has come close.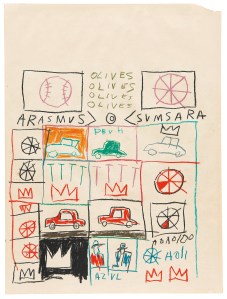 Not every piece in this show is perfect. Some works are too spare and look unfinished. He was prolific. When he was in his zone, there's not a line wasted. Even the densest drawings look elegant and restrained; even in his weaker pieces, there's guaranteed to be a passage that sticks with you, like this bit from a 1983 portrait of a grinning Charlie Parker: "Composed, repeated, improvised, repeated." It could have been a mantra for Basquiat's brief, unrelenting career.
(Through June 13, 2014)