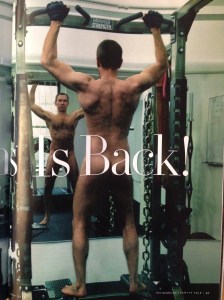 The new issue of Vanity Fair features an article on Jeff Koons and includes a photograph of the artist working out in his birthday suit in front of a big mirror. (Vanity, indeed.) If this doesn't make you, uh, let's say excited for "Jeff Koons: A Retrospective" at the Whitney Museum, then I'll consider myself run out of town and will resign in shame.
Some details to note:
– The word "poop" appears in the first paragraph. (Come on, Graydon Carter. You've already got a man's naked ass on display. What kind of operation are you running over there?)
– Perhaps explaining the presence of Jeff Koons' naked buttocks and shadow-covered penis is the following sentence: "Koons, at 59, has already begun a strict exercise-and-diet regimen so that he will have a shot at working undiminished into his 80s, as Picasso did." We're stuck with this guy!
– Artists Jeff Koons is compared to unabashedly: Picasso, Courbet, Warhol, Duchamp, Brecht.
– Number of studio assistants working for Jeff Koons on a typical day: 128.
– Jeff Koons has something called a "Koonsmobile, a stretch van with a captain's chair for every child" (he has eight of them and it is probably only a matter of time until they all get a reality show where they drive around in the Koonsmobile and solve mysteries).
Now that you've seen the Ass of Koons, how will you continue on with your day? Furthermore, how can you stand to wait any longer for "Jeff Koons: A Retrospective"?
Koons Klock: 14 Days, 23 hours, 35 minutes to Koons