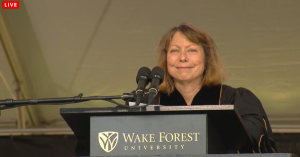 Jill Abramson will be a visiting lecturer at Harvard University this fall. The Harvard alum and former New York Times executive editor, who was abruptly let go from the paper last month, will teach undergraduates narrative non-fiction, The New York Times reports.
"I'm honored and excited to be teaching at Harvard in the coming academic year," Ms. Abramson said in the statement posted by The Boston Globe. "Narrative non-fiction journalism is more important than ever. Its traditions and how it is changing in the digital transition are fascinating areas of study."
Ms. Abramson is an enthusiastic Harvard grad (before her unceremonious ouster from the Times, she'd considered leaving the paper to teach at the Ivy League university). As the Times notes, she has a tattoo of Harvard's "H" logo as well as the Times "T." During her commencement speech at Wake Forrest University shortly after her ouster from the Times last month, she told students (and media) that she wouldn't remove the Times logo from her back, despite the fact that the Times had removed her.
She also identified with the students' uncertainty about life after graduation
"What's next for me? I don't know. So I'm in exactly the same boat as many of you," Ms. Abramson said. And just like many recent college graduates, the lure of returning to academia is hard to resist.