It may not be a fairy tale, but at least they'll have a story to tell.
For couples screwed by disgraced ex-reBar owner Jason Stevens, their fairy godmothers have come in the unconventional forms of sympathetic wedding planners and venue owners.
On May 9, Mr. Stevens, in the hole for nearly $3 million in back taxes, allegedly took off with over $150,000 in wedding deposit checks. Dozens of couples that booked reBar—a popular DUMBO wedding venue—through 2016 paid Mr. Stevens in full up-front, with the promise of a 5-15 percent discount.
Mr. Stevens, who on Thursday pled guilty to one count of grand larceny and four counts of felony tax fraud, has since made a tentative agreement with the Brooklyn Attorney General to reimburse up to $1 million to former clients who lost their reBar deposits.
Tyler Lindsay and Katherine Cassell, former reBar wedding planners, swooped in immediately after the sudden shuttering of reBar to re-coordinate and rebook the jilted couples' weddings. Over a month later, Mr. Lindsay and Ms. Cassell are still unemployed and are offering former clients their services for free.
"I just coordinated another wedding for a former reBar couple," Mr. Lindsay told the Observer. "Some couples have asked me to coordinate their weddings, while many others [need] guidance on ways to spend smart."
"During the last reception, the parents of the bride and groom came up to me with tears in their eyes and gave me big hugs," Mr. Lindsay said. "Its moments like that that make it all worthwhile."
Unfortunately, it hasn't been that easy for every reBar couple.
Christian Pascarella, a former reBar groom who lost his $17,500 deposit and has yet to rebook, is organizing a class-action lawsuit against Mr. Stevens
Just one day after Mr. Stevens' arrest, Mr. Pascarella had received over 50 emails from angry and confused couples intent on suing.
"It's been very upsetting to see," Ms. Cassell said. "The majority of reBar's couples were young—late 20's, early 30's. They haven't had a lifetime to save. Some of them were working second jobs to help pay for their wedding."
Tom Viertel, Marc Routh, Richard Frankel and Steve Baruch, owners of Midtown wedding venue 54 Below, heard about the reBar fiasco and were eager to help. Although 54 Below is far more expensive than reBar was, the owners reached out and helped couples rebook within their original budget.
On June 9th, 54 Below hosted "For the Love of Love," a concert to benefit 3 displaced reBar couples: Billy Bustamante and Peyton Royal, Maggie McNeil and Alex Berman, and Tara Siesener and Gordon Heal, all of who have since rebooked.
"It really was amazing. You go back to that high-school-birthday-party feeling, wondering if people are going to show up," Mr. Bustamante said.
Mr. Bustamante, Ms. McNeil and Ms. Siesener, all left high and dry by reBar, performed at the benefit concert, along with Broadway performers Emily Ferranti, Jed Resnick, Jerome Bell, Marisa Kennedy, and singer-songwriter Julian Velard.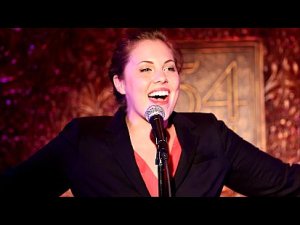 "It was great for people to hear from us and see us and hear that we're in love and happy and not focusing on the money we lost," Ms. McNeil said of the concert.
Russell Pinto, Jr., wedding professional and President of Little Red Bean Productions, and Anja Winikka, Site Director of TheKnot.com, are even offering reBar couples the "Lemons to Lemonade Dream Wedding Giveaway," an all-inclusive wedding package valued at over $35,000. Lillie's in Midtown will host another "For the Love of Love" fundraising event on July 14th to benefit the three couples.
One thing all reBar couples have benefitted from is the community that has formed in the wake of this debacle. The Facebook group "Screwed by reBar" currently has over 160 members who share legal documents, discounts and wedding information with their fellow jilted couples.
"[Jason Stevens] may steal our money," Ms. Jones said, "but he won't steal our wedding."