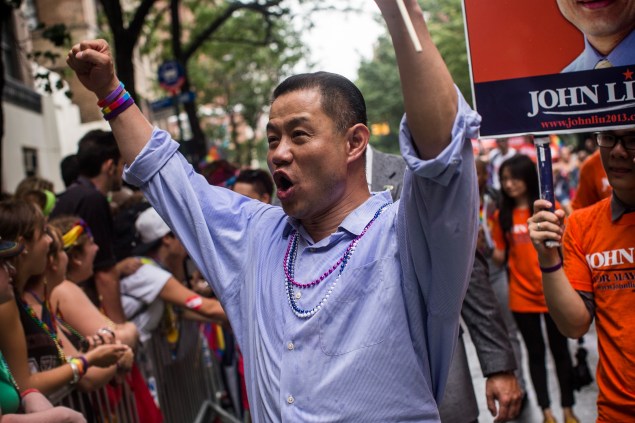 John Liu is definitely running against State Senator Tony Avella in eastern Queens, but he's definitely hitting the campaign trail elsewhere.
The former city comptroller and mayoral candidate, renowned for his relentless campaign schedule, will spend a majority of his Thursday and Friday campaign stops in neighborhoods beyond the boundaries of Mr. Avella's district.
It's not immediately clear why–his campaign declined to comment.
But the ubiquitous Mr. Liu touched down at a Democratic club meeting last night in Flushing, outside Mr. Avella's district and in Mr. Liu's old City Council stomping grounds, and will make three out of four stops Friday that are not in the district. Mr. Liu, in fact, will be traveling outside the borough.
After a morning appearance at a Whitestone, Queens event in the seat Mr. Liu is seeking, he will stop in lower Manhattan to accept an award and then jet into Brooklyn and back into Manhattan's Chinatown to visit two civic association dinners. (Even on Memorial Day, Mr. Liu managed to attend a Queens parade outside the turf he wants to represent.)
The schedule mirrors the one he kept after he lost the Democratic primary for mayor last year: a citywide tour that appeared aimed at keeping his political options open. Mr. Liu briefly flirted with runs for Congress in Brooklyn and Queens, sources say, and still won't rule out ever running for mayor again.
"John is an extremely ambitious politician," said a Queens Democrat who has followed Mr. Liu's political career. "He keeps a busier schedule than anyone in the business, maybe a little irrational at times but it is an indication of his grandiose notion of his political future."
Mr. Liu, a Democrat, announced his bid last month after the Queens Democratic Party urged him to run against Mr. Avella in a primary. Mr. Avella earned the ire of the Queens machine when he defected from the Democratic conference to join a group of breakaway Democrats that govern the senate with the Republican Party.
Since his announcement, Mr. Liu has garnered a significant amount of labor support and is expected to be a formidable fund-raiser. Mr. Avella, however, remains popular in the district and has vowed to keep pace with Mr. Liu's fund-raising, despite having less than $3,000 in his campaign account.
Mr. Avella's campaign blasted Mr. Liu for stumping outside the district.
"We're delighted to see that disgraced candidate John Liu spends most of his precious time campaigning outside of Senator Avella's district than he does from within," said Seth Urbinder, a spokesman for Mr. Avella.
"His actions make it all too apparent that he's more interested in using this race as a springboard for yet another failed bid for citywide office. If his prerogative is to ignore learning the important local issues and earning the trust of Northeast Queens voters, than he's in for a rude awakening come this September."
Updated with comments from Mr. Avella's campaign.