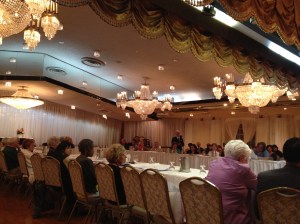 Alma Realty has proposed a new development in Astoria that would re-zone and re-design the Queens waterfront.
Last night, the proposal went before Community Board 1 in Astoria World Manor's upstairs ballroom with a lush presentation by architect Jay Valgora of Studio V Architecture–the same company that redesigned neighboring Halletts Point. The proposed development is Astoria Cove, a five-building mixed-use project spanning 1.7 million square feet on the Astoria peninsula.
"Right now, the peninsula is isolated and cut-off from Astoria," Mr. Valgora said.  "These are old, under-used industrial spaces that's a desolate eyesore. We want to bring the community to the waterfront."
The project is mapped out in four phases that will span over the course of a decade. When completed, Astoria Cove would consist of three buildings along the waterfront that would range from 26- to 32-stories high. On the upland portion of the site, there will be a six-story residential building and a 6-story elementary school. The development would come with 84,000 square feet of open space for public use designed by landscape architect Ken Smith, which would include a waterfront esplanade and children's playgrounds.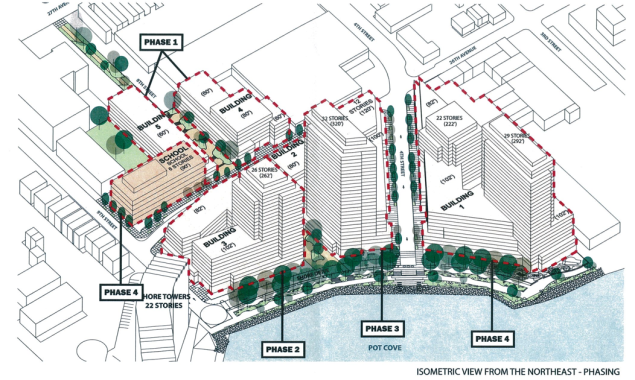 "It's my belief that this could be one of the most magical, outstanding sites in New York City," Mr. Valgora said as he addressed the community board.
But board members weren't as easily convinced. They fired at Mr. Valgora questions of sanitation, safety, transportation, traffic, parking, and affordable housing. Ultimately, the committee has the power to grant the rezoning Alma Realty needs to build residential units in an otherwise industrial zone, given that the proposal must first pass through CB1's land use committee.
Board members weren't alone in their concerns about Astoria Cove. Fifty-six community members lined up and waited for a chance to testify before the community board. The meeting also saw a large presence of members from Build Up NYC, an alliance of construction and building service workers, wearing lime green Build Up NYC t-shirts.
"Alma Realty has an opportunity to create good, safe jobs with priority hiring for local residents and opportunities for local businesses," said Gary LaBarbera, president of Build Up NYC. "But they haven't made a commitment to do so. We need good jobs and affordable housing to keep the middle class strong."
Stacy M., a 12-year Astoria resident expressed extreme distrust in Alma Realty and cited an article in the Poughkeepsie Journal about a stop-work order against the realty in 2007 for code violations.
"I wonder about their credibility," she said. "Community Board 1 should hold their decision until all of their questions have been answered."
John Collins, an Astoria resident and professor at Queens College, agreed.
"I urge Community Board 1 to ask hard questions and not roll over for promises," he said. "As a professor who studies cities, I favor responsible development that doesn't hurt the community."
But some were excited by the economic benefits that Astoria Cove may provide for the borough as a whole.
Jack Friedman, representing Queens Chamber of Commerce, voiced his support for the project. "The economic impact can be profound," he said. "The opportunity this provides for Queens cannot be ignored."
The meeting stretched on for three hours, punctuated by tense and emotional testimonies from community members. At the end, CB 1 chair Vinicio Donato reminded the crowd that the proposal will not be voted on until next Monday. If the land use committee votes in favor of Astoria Cove, the proposal will make its way to the borough president's office and ultimately city council.
For now, long-time Astoria residents like Mary Ann, who declined to give her last name to the Observer, nervously await Astoria Cove's fate.
"This looks like a beautiful oasis," she said, "but we all know in the desert, an oasis is just a mirage."