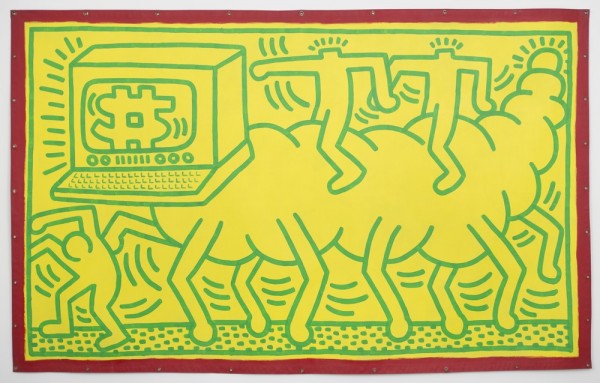 Don't trust anyone whose opinion of Keith Haring falls short of unbridled admiration. The late Downtown phenom's unrepentant accessibility and his (unfortunate) position as godfather to so much insipid street art can make him seem suspect and uncool, but the simple fact is that he produced some of the most captivating, irreverent, hilarious, engaged imagery of the past half century. Anyone who doubts it is refusing to look. Eight large works at Gladstone, on canvas, tarp and muslin, offer further proof of a basic truth: He is an American treasure.
Only 31 when he died of AIDS-related complications in 1990, after an unrelenting career, Haring was in his mid 20s when he made these searing works, in which his thick, sui generis line never falters. That line is as confident, in its way, as Matisse's, and its most subtle shifts warp space and set bodies in motion. It limns ingenious images, variously deathly and uproarious. In an untitled piece from 1986, deep in the AIDS crisis, his yellow bodies, outlined with red, are intertwined in a dense pile, black Xs across their faces. On a long tarp with a bright red border, headless bodies, outlined in neon green, ride a huge yellow caterpillar with a computer for a head, its screen displaying a dollar sign. It's from 1985 but could easily serve as a powerful representation of today's tech-finance madness.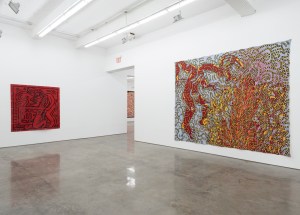 Haring was versatile, also striding with ease into near-total abstraction. In Moses and the Burning Bush (1985), there are layered constellations of forms and tight networks of shapes; its swirling, striped lines may put you in the mind of richly patterned aboriginal paintings. Another piece, a gargantuan untitled web of black-and-red zigs and zags, handily rivals the primeval dynamism of A. R. Penck.
Haring's work is a potent antidote for so much of today's wan, repetitious art. Urgent and vibrant, his paintings raise the stakes. The works at Gladstone should send young artists rushing back to their studios, asking some serious existential questions.
(Through June 14, 2014)