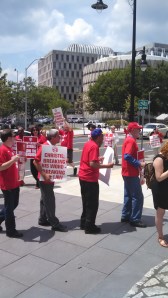 TRENTON – Just a short time ago, Superior Court Judge Mary Jacobson ruled against more than eight unions seeking a preliminary injunction in the case against Gov. Chris Christie and his plan to cut from the state's pension system.
Jacobson concluded that due to "broad economic and social circumstances" in the fiscal year 2014, Christie's actions — which include taking more than $900 million from the pension fund this year and using it to plug a budget shortfall in excess of $1 billion — were justified.
But she was quick to point out that her decision only applies to the current fiscal year, and that she's not dismissing the plaintiff's complaints.
The reactions are already rolling in.
"We are disappointed in the ruling and certainly disagree with the outcome," Senate President Steve Sweeney (D-3), who along with Democrats in the upper and lower house proposed their own budget plan earlier this week, said in a statement. "Still, Democrats put forward a budget that keeps our commitments to retirees and middle class New Jersey families regardless of the governor turning his back on them. That is what our budget does and we will not be swayed by the governor's continued commitment to the wealthy few."
State PBA Executive Vice President Pat Coligan also issued a statement on the ruling, calling Jacobson's decision a "sad continuation of the poor decision making by the State that has purposely underfunded our pension system."
He said that the NJPBA is considering its legal options in light of the decision.
"What is certain is that the Legislature must now step up and take dramatic action to ensure our pensions are funded through every legal and constitutional means," Coligan said. "Any Legislator, Democrat and Republican, who voted to reduce our benefits, increase our health care contributions and cut COLA for retirees in order to 'save' the pension system must demand that Governor Christie and every future Governor live up to their end of the bargain and fully fund the pension system. The Governor can't decide which laws he likes and which ones he doesn't. He took an oath to faithfully execute the laws and one of those laws demands a full pension payment. It is his obligation and he can't be allowed to substitute this fiscal gimmick for the pension funding deal he himself signed into law in 2011."
And in an interview with PolitickerNJ on the steps of the courthouse in Trenton after the hearing, Communications Workers of America (CWA) Leader Hetty Rosenstein was somewhat optimistic, saying the ruling "very clearly [leaves] the door open for 2015."
"We're disappointed that we didn't get an injunction in terms of the $300 million dollars and the 2014 payment," Rosenstein said, referring to an amount the state currently maintains in surplus. "I think she struggled with it, but she didn't quite get there because of the very specific circumstances of 2014. But she did say that she found that there was a contractual impairment if the money wasn't paid, and I thought that was very important for us. I think we're in a relatively good position for 2015, she rejected the state's arguments. It's clear she expects us back in court and we will be.
"Overall we're moving forward. We knew this case was going to end up being litigated," she added.