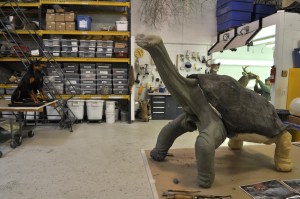 He was nosing his way out of an egg the size of a billiard ball as Picasso put the final dabs of paint on Ma Jolie. He was wracked with adolescent angst as the Jazz Age raged across the sea. He hit his sexual prime in the Galápagos as German troops invaded Poland.
Perhaps the war was an omen. Sex—or a severe lack thereof—was the downfall of Lonesome George, the last member of the now extinct Pinta Island subspecies of Galápagos tortoise. The giant reptile lived out his days at the Charles Darwin Research Station, where tireless researchers tried to coax him into coitus with eligible, genetically similar she-tortoises. These prospective mates were, no doubt, seductive as far as enormous, leathery behemoths go, but George snubbed them all.
Maybe it was the pressure; the world watched anxiously for years, praying that he would just perform already and save his subspecies. Maybe it was sheer stubbornness or a protest in the tradition of Bartleby. But, when Lonesome George finally died in 2012, at around the age of 100, scientists could at least take comfort in knowing that they'd done everything.
"They even masturbated it to get semen out of this tortoise, like, by hand, to try and inseminate a female," the hotelier and conservationist Eric Goode, who has traveled all over the world researching tortoises, told us recently. We were speaking at Wildlife Preservations, the elite taxidermy atelier charged with assembling the famous tortoise's remains for exhibition at the American Museum of Natural History. Had Lonesome George died with a harem of mates and generations of hatchlings gathered at his feet, he probably wouldn't be there in the room with us, spread out in pieces on a table in Woodland Park, N.J. "I think they needed more candlelight and romance," Mr. Goode added.
We mentioned panda porn—raunchy footage that zookeepers sometimes show the infamously sex-averse mammals to get them going.
"Well maybe they should have put on more tortoise porn," said Mr. Goode ruefully, "because I went and visited this tortoise when it was alive, about 2007, and it seemed fairly bleak, in my opinion, where it was being kept. It was on this rocky, volcanic surface. Not a sexy spot."
The studio resides in a grim pale yellow and orange brick of a building alongside less exotic businesses—it's wedged between Elliott Glass Company, Inc. and Joe the Plumber Inc.—but it contains a cabinet of curiosities.
An enormous brown bear stands near the door like an exceptionally ferocious (and furry) maître d' and, during Mr. Goode's visit in May, two flamboyant turkey heads were getting a paint job not far from a desiccated flounder. A shaggy bison loitered near twin dobermans that Mr. Goode was having restored (rats had eaten their ears).
George Dante, the affable taxidermist-in-chief, was busy mounting Lonesome George in a regal standing position, with his long neck fully extended.
"This is a pose that, unfortunately, most people don't get to see turtles in," said Mr. Dante, a nature enthusiast who's been practicing taxidermy since he was 7. "It does George a bit of justice, I think."
Mr. Dante popped off the sloping saddleback carapace, which was a dusty dark brown quite unlike the mottled, amber of "tortoise shell" hairclips and sunglasses, and explained the taxidermy process. Prior to the early 20th century, animals were stuffed like sofas with hay or excelsior, which made for lumpy, unrealistic mounts. A pioneering artist and naturalist named Carl Akeley changed the game completely by introducing anatomically accurate sculptures to the process, and stretching the skins over casts of these.
"Right now, I'm in the process of working on the wrinkles, which are really the essence of Lonesome George," said Mr. Dante, of the sculpture in progress. "If you look at his neck here, there are all of these wonderful little wrinkles."
When Mr. Dante has articulated every fleshy fold, the piece will be cast in fiberglass and Lonesome George's leathery skin will be stretched over a foam positive made from that mold. The process is a kind of resurrection, a feat that falls somewhere between an act of God and a Frankenstein experiment and confers a macabre immortality.
Mr. Dante made several white plaster death masks of the tortoise, and these were laid out nearby. Although Lonesome George's creased, puckered face resembles a da Vinci grotesque more than the other, cuter, darlings of conservation efforts—tiger cubs, for instance—his is a poignant image of mortality. Its prehistoric appearance recalls the mass extinction of dinosaurs, and makes one wonder whether our own species will go the way of those animals, of Lonesome George.
But there were more specific, less philosophical questions to consider.
Mr. Goode, who sits on the board of directors of the Turtle Conservancy, was asking how much mounting a Galápagos tortoise would "hypothetically" cost, if it were a private commission. "I mean, if I had a Galápagos tortoise—which I actually have—and I wanted it taxidermied, how much would it cost to do this? If I came to you?"
"I don't even know…" began Mr. Dante. Mr. Goode was undaunted.
"But tens of thousands?" asked Mr. Goode. His questions were sounding less and less hypothetical.
"Oh yeah. With a process like this where you're actually doing a sculpture—"
"But is it like $50,000?" interjected Mr. Goode. Mr. Dante finally conceded it would be around there.
Mr. Dante has restored other extinct species, cheerfully colorful Carolina parakeets and slender, striped thylacines, the so-called Tasmanian wolves whose last known member died in a zoo in 1936. Is there a particular pathos to preserving animals that now exist only as mounts?
"It's just the most humbling experience," said Mr. Dante. "When I looked at him for the first time I was almost in tears."
The job, he said, is the greatest honor of his career, even exceeding commissions like the restoration of the natural history museum's Hall of North American Mammals. "I can't even put it into words," he said. "I might as well just jump off a building when this is done."