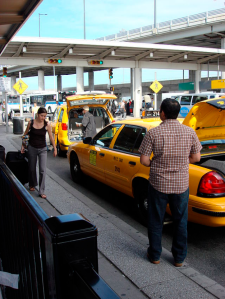 Watch out, Uber.
Yongche, China's leading rideshare app, is planning to expand to New York and San Francisco, Bloomberg reports. Yongche founder and CEO Herman Zhou told Bloomberg he hopes to compete with Uber, and expects his company will one day be valued as high as the American rideshare giant, which recently hit $17 billion.
Yongche's game plan for the American expansion is to match Chinese-speaking drivers with Chinese people traveling in the U.S., who might otherwise have a hard time communicating with their cab drivers.
"Most Chinese don't speak English and find it difficult to communicate with foreign drivers after they land in another country," Mr. Zhou told Bloomberg. "We will have Chinese-speaking drivers in the U.S. and other places to make it seamless and stress-free."
That'll be useful; flying into JFK is stressful enough without having to deal with language barriers.
After New York and San Francisco, Mr. Zhou reportedly plans to expand to other cities frequented by Chinese travelers, like Tokyo, London and LA. Mr. Zhou hopes to expand Yongche — which is currently in 57 cities in China and Hong Kong — to 150 cities by next year.
"We want to prove to the world that the competition between Uber and Yongche.com isn't that of between a global and local company, but a match-up of two different business models," Mr. Zhou said. "They can come to China, we can also expand and compete with them in the U.S."