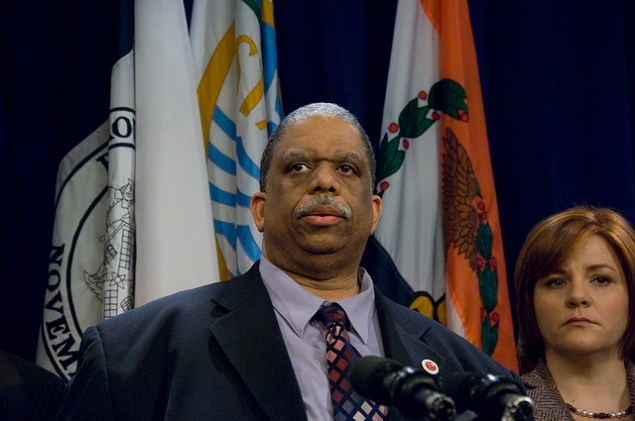 Former Councilman Leroy Comrie has scored the backing of a trio of labor unions in his bid to unseat State Senator Malcolm Smith.
Mr. Comrie won the endorsements of the Retail Wholesale and Department Store Union, the United Food and Commercial Workers Local 1500 and Communication Workers of America Local 1182. These labor endorsements come after the labor-backed Working Families Party voted to endorse Mr. Comrie last month.
"Leroy Comrie has always been a strong leader and fighter in the community of Southeast Queens," said UFCW President Bruce Both in a statement to the Observer. "As a City Council member, Leroy stood side by side with our members to hold Walmart accountable for their irresponsible business practices, and fought with us to bring healthy supermarkets to communities in need."
The biggest question hanging over the race for the southeast Queens seat is Mr. Smith's trial. The former Democratic majority leader was indicted on corruption charges last year and is being tried this month–if convicted, he will be forced to resign.
Mr. Comrie is running at the behest of the Queens Democratic establishment. Queens Democrats have wanted Mr. Comrie to run since Mr. Smith defected to a coalition of breakaway Democrats that govern the senate with the GOP, sources say.(Mr. Smith has since been booted from the conference.)
If Mr. Smith loses his seat, Mr. Comrie will be the prohibitive favorite in a race against at least three other contenders–Munir Avery, Clyde Vanel and Bernadette Semple–but is not guaranteed a win if Mr. Smith is on the ballot for the Democratic primary in September, observers say. Mr. Smith enjoys high name recognition in the district and is expected to campaign aggressively if found not guilty.
Mr. Smith's office declined to comment.