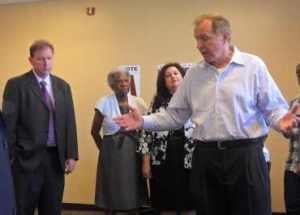 State Sen. Ray Lesniak (D-20) today announced he will introduce legislation tomorrow to enact both a Republican-favored repeal of the state's estate tax and a Democrat-favored millionaire's income tax.
Lesniak said the combined moves would net an additional $850 million in revenue to secure the State's pension obligations, balance the budget and upgrade New Jersey's bond rating, which has been downgraded five times since Gov. Chris Christie took office. Lesniak believes he can get Republican legislators and Gov. Christie's support for the compromise measure.
"Economic studies indicate that the major factor in the decision of wealthy families to leave a state is the estate tax, not the income tax," said Lesniak. "This compromise should alleviate concerns that a millionaire's tax will drive wealthy families out of the state.
"Without additional revenues, the state is facing a train wreck at the end of June that could only be duplicated by Congress. No one wants that to happen," the senator added. "Public and private workers all need to have their pension income secure. Our proposal will help the Governor and legislators fulfill that obligation."