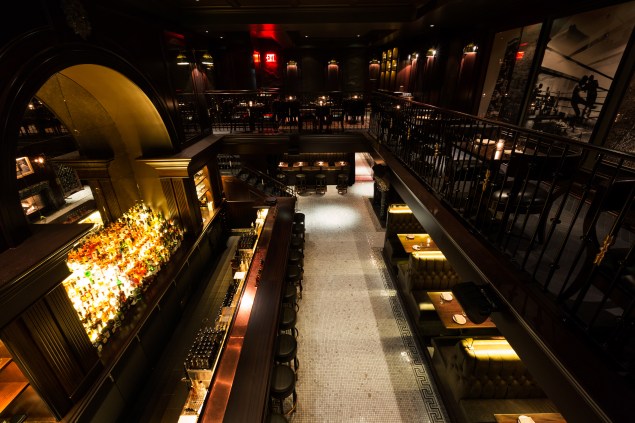 Around 1 p.m. on the day after the new NoMad bar officially opened last week, Leo Robitschek, bar director for all of NoMad's various drinking venues, as well as Eleven Madison Park, stood behind the wide mahogany bar, as construction workers squeezed electric drills in the near distance. Mr. Robitschek seemed reflective, wiping down the counter, perhaps considering his opening-night crowd, which included hotel regular Idina Menzel, who rolled up with a crew of 50 following her show at Radio City Music Hall. 
So how was he liking the new space?
"I love it," he said, picking at a stray shard of plastic wrap, but his heart wasn't in it. "You know," he sighed, "it's one of those things that you invest like a year-plus of your life into. I know in a few weeks I'll sit down at a table and look around and be like, 'Huh! This place is pretty cool.' But now I'm noticing every little error. We still don't have this wood piece here, there's a chip over there, the lighting is wrong here, the sound—" he said, then stopped, cutting himself off. "Of course, you don't say that to everyone." 
The Venezuelan-born mixologist was less ambivalent about his latest beer cocktail, a savory concoction called "Fresa Y Cerveza," which he began to prepare. The drink features a Berliner Weisse-style ale made by Evil Twin in collaboration with NoMad. "These are the ones I tend to be most proud of, because I get to play with a lot of ingredients people don't usually see in cocktails, like beer, sherry and vermouth," Mr. Robitschek said, pointing to the "Aperitifs" section of NoMad's new summer menu. "It's a category I've been into for a very long time."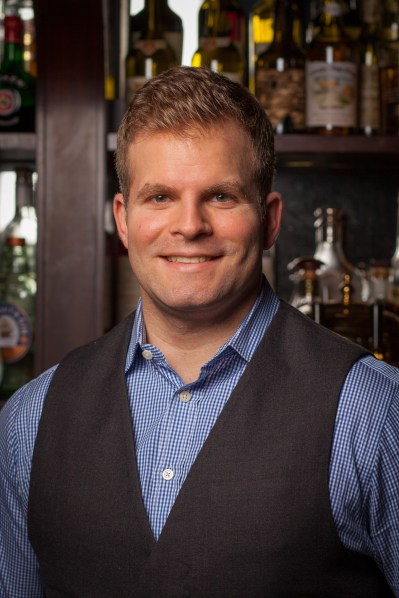 The idea for this particular drink, like so many before it, came from chef Daniel Humm's award-winning kitchen. In this case, inspiration struck when Mr. Robitschek tried a pickling liquid that was being used for a strawberry salad. "They were throwing it away, and I tasted it," he said. "I was like, 'This is delicious.'"
Not wanting to let the liquid go to waste, he and his team began making it into a shrub, and then added other flavors, like yellow chartreuse, jalapeño-infused agave and lemon, until they had a menu-worthy cocktail. He explained, "Beer cocktails have been around for a long time. Usually it's that classic mix of beer and tomato juice. This is sort of an ode to that. It's like a summertime michelada funky strawberry thing."
The drink's actual name, "Fresa Y Cerveza," literally translates as "strawberry and beer." That may seem like a throwaway, but Mr. Robitschek, who joined Eleven Madison Park in 2005, has always valued good drink titles, often culling from local lore. In fact, at this point, he could probably give street tours. 
"Jerry Thomas had his first bar down the street," he told me. "Tin Pan Alley was a block away. This area was farmland and then it became the Upper East Side. It was original Broadway. It was also known as the Tenderloin, or the vice district. It had the highest concentration of saloons, which were bars that had whore houses, even though it was also surrounded by the most affluent people in the world, like Jennie Jerome, who's theoried to have invented the Manhattan. 
"Of course," he added, "she's more famous for being the mother of Winston Churchill."
At the new bar, which Mr. Robitschek described as "our version of a pub," an appreciation for history is not just reflected in cocktail names, like Needle & Thread (an homage to the Garment District) and Satan's Circus (another former name for the nabe). Reserve cocktails are crafted from rare ingredients, which are locked in a century-old cabinet. Also, the artwork that hangs on the walls pays tribute to the modern-day area, as it's changed in real-time, thanks to photographer Mackenzie Rollins, who spent the past 12 months stalking the streets, capturing everything from high-end fashionistas to run-down wig shops, even earning the respect of heroin dealers who haunt the corner of 27th and Broadway.
As we sipped our drinks, Mr. Robitschek kept returning his attention to the brand-new cocktail menu. "It's a weird relationship," he said, flipping through. "You start with a cocktail and you're like, 'Oh, I love this cocktail.' Then you make it so many times you're like, 'Uch, does anyone like this cocktail?' 
"You almost get embarrassed sometimes," he continued. "In the moments before a menu changes, I'm like, 'I can't believe this is the menu I put out—so embarrassing! What was I thinking?' Of course, when I put it out, I was like, 'I've never been prouder of a menu in my life.'" 
So what of his current menu, which was barely three days old? Mr. Robitschek flipped another page and muttered something about too much licorice, as his facial expression soured. Ever the perfectionist, he sighed and said, "It's a love-hate relationship."
***
HOW TO MAKE IT: FRESA Y CERVEZA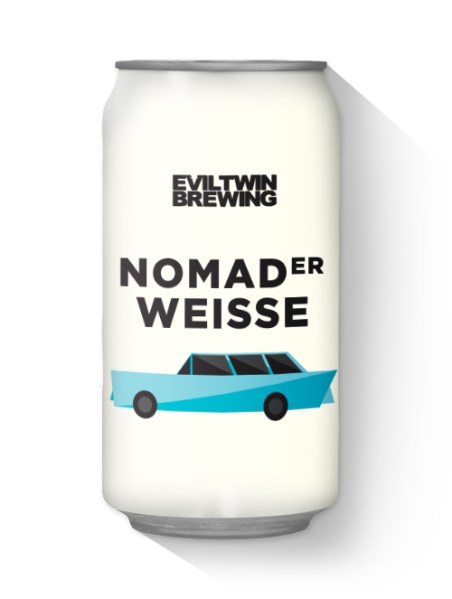 Ingredients:
1 slice of cucumber
.5 oz. jalapeño-infused agave syrup*
.5 oz lemon juice
.75 oz yellow chartreuse
.75 oz strawberry shrub**
Method:
1) Combine all ingredients and shake.
2) Strain into a highball and top with Berliner Weisse.
3) Garnish with cucumber slice.
* To make jalapeño-infused agave, steep three diced jalapeños in 10 ounces of hot water for five minutes. Strain, and then add 20 ounces of agave nectar.
** For strawberry shrub, muddle 10 strawberries in one cup of sugar. Combine with one cup of white wine vinegar, one cup of water and one teaspoon of kosher salt. Allow the mixture to sit over night, and then strain.