Three-year-old longform website Byliner has been struggling of late, with news leaking out a couple weeks ago that it was seeking investors or a partner.
It now appears that the end for the highest profile of all the longform journalism sites might be even closer at hand than many of its contributors realized. The site, which charges subscribers $5.99 a month and enjoyed a well-funded launch and investors including Avalon Ventures, Freestyle Capital and Random House, is now experiencing an exodus by the well-regarded editors who some were surprised to see had taken a flyer on the company in the first place.
The trouble first became evident when co-founder Mark Bryant, formerly an editor at Outside magazine, who had helped attract well-known writers from that world, including Jon Krakauer and Bruce Barcott, announced he was leaving last month. Then executive editor Laura Hohnhold — who came to Outside after the Times shut down its sports-oriented magazine supplement Play, and then joined Mr. Bryant — bailed on Byliner five days ago. Her resignation letter directed "Byliner-related questions to author@byliner.com," creating the impression that she might not be replaced.
And then this afternoon – yes, on a Sunday – contributors received an email from CEO and co-founder John Tayman, explaining that his Byliner days are finished.
Mr. Tayman was not only an entrepreneur; in addition to founding a couple companies, he is also the author of a well-regarded narrative non-fiction book of the exact type Byliner tended to feature. Mr. Tayman described Byliner's mission as "Basically, what Netflix did for movies and Spotify did for music, Byliner is doing for reading" and his beautifully written farewell note included this eulogy: "From the moment of Byliner's launch in 2011 through to today those feelings have remained, along with another, equally powerful one: gratitude. I've stepped down as Byliner's CEO, but I'll be forever thankful for the opportunity to work with and for you."
If truly headed for the graveyard, the loss will be felt among readers who appreciated the opportunity to gather name-brand talent such as Mr. Krakauer, whose reporting uncovered major flaws in the best seller "Three Cups of Tea" was first published on Byliner, as well as Margaret Atwood, Scott Raab, Chuck Palahniuk and Susan Orlean. One Byliner contributor reached this afternoon told the Observer that he suspected all was not well with the site for a few months. He contributed his back catalog to the site long ago and finally received a check – "about fifty bucks" a few months ago, but hadn't seen another since.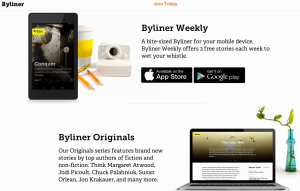 Said the contributor: "My assumption is that people are bailing because the monetization model isn't working, they're burning through their startup cash, and either paychecks have stopped coming or people can see writing on the wall."
Another Byliner contributor, award-winning writer Christie Aschwanden, is the health columnist for the Washington Post. Ms. Aschwanden describes a strong come-on and a weak follow-through that others who have published on Byliner found familiar. She told the Observer: "I'm not surprised. Byliner courted me so hard in the beginning. They sent me a list of nearly 200 of my articles they wanted to include on their site, and they wooed me with bottles of wine sent to my house with hand-written cards. Then I signed up, and it was as if I no longer existed. Emails to them went weeks without a reply, and they appeared to do almost nothing to promote my stories. Their model seemed promising, but the execution was inept. My Byliner income never amounted to much more than beer money. I'm sorry, but not surprised to see it fail."
Emails to Mr. Tayman and Ms. Hohnhold were not immediately returned; the Observer will update this story as information develops.