The 25-year-old Lucien Smith has made his name with one of the most painfully banal series of artworks in recent memory, his "Rain Paintings," which he produces by peppering raw canvas with paint from a fire extinguisher. Visually D.O.A., they blithely and lazily riff on countless precedents, from Yves Klein's fire and Warhol's urine paintings to Dan Colen's facile confetti canvases, which end up looking like the work of an Old Master in comparison. Mr. Smith has sprayed out hundreds of these things, and they are favorites of a certain type of collector.
Mr. Smith's new "Tigris" paintings, the subject of his first solo show with Skarstedt, are markedly better than his "Rain" works, but that isn't saying much. Given his penchant for brainless, punkish gestures, it's interesting to see him instead rush head-on into academicism. On large canvases (most are about 8 by 6 feet), he has carefully poured paint in a variety of hues to build enlarged camouflage patterns that a news release explains come from 1960s South Vietnamese uniforms and, of course, allude to Hokusai, Morris Louis and Warhol.
The "Tigris" works, which sport sophomoric titles (e.g. They just want to steal you and tear us both apart again), are exemplary of a particular strain of new art that is enamored of the past, filled to the brim with a grab bag of references that add up to very little and have no discernible purchase on the present moment. It's possible that this mixture of Color Field painting, Pop and (vague) politics would have looked vital 50 years ago, but now it just looks bafflingly out of step. (Some might say cynical.)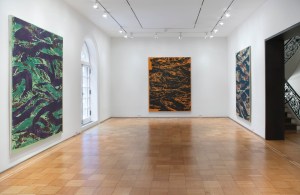 All of that said, Mr. Smith's are pleasant-enough pictures. The color palettes aren't bad, and the craftsmanship is solid. He has worked subtle undulations into many of the canvases, which gives them some verve, even if they don't ever achieve the flashy, Op-y quality you sense he was after. If you happened upon them in a little gallery, you'd think they were a bit of harmless fun and that the artist might eventually get up to something really interesting. And he might.
But hanging in Skarstedt's tony townhouse, where only two months ago there was a superb show of Martin Kippenberger's masterful "Raft of the Medusa" series, they just look like the latest sad byproducts of an art market run amuck, pushing artists into prime time before they're ready. When you think of them that way, you're not sure whom to feel most embarrassed for.
(Through June 27, 2014)