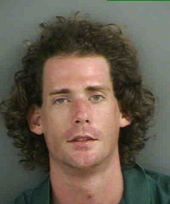 A 30-year-old Florida man was arrested on Sunday morning after sending a slew of lewd selfies to an unsuspecting cop.
The man, Paul Kirleis, first called 9-1-1 to report a suspicious vehicle, Wink News reports. A police officer returned the call on his department-issued cell phone. Mr. Kirleis allegedly followed up by texting the cop six times, and then sending him naked and lingerie-clad selfies.
Police arrested Mr. Kirleis, who allegedly tried to argue that he'd been intoxicated when he sexted the cop, and didn't remember sending the racy pics. According to the Collier Country Sheriff's office, he's currently being held on a $10,000 bond for stalking and "prohibition of certain acts in connect[ion] [with] obscene, lewd, etc. materials."
A neighbor of Mr. Kirleis described him as "wild," and said she used to pay him to do odd jobs around her house, until she realized he'd been stealing her money. He sounds like a delight.
Mr. Kirleis has been arrested 12 times in the past 10 years for drugs, DUI, trespassing and theft. Wink News notes, however, that "none of the charges had anything to do with sexting, let alone sexting an officer."