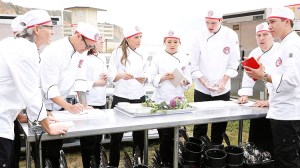 Don't worry, this week is awesome. Now that we have a little distance from it, we can all admit that last week was kinda boring. My recap was pretty badass but the episode, eh. This week is all killer and no filler.
The show opens with the 17 remaining home cooks walking along the beach in SoCal wondering what group challenge awaits, intercut with 19 year-old Jordan talking to the camera about how he can be the next MasterChef because he had to cook for himself in order to lose nearly 100 pounds when he was 14. A heartwarming tale but talking like that at the beginning of the episode means it's probably going to be a rough one for Jordan. Well, it's usually a rough one for Jordan.
The 17 walk up to what is obviously a wedding site. The judges are standing under the wedding arch. Is Gordon finally getting married to his own voice? No, the 17 will be splitting into teams and catering the wedding of Joplin and Mike. Lucky. Not only did Joplin and Mike find the person they will love for probably five years, they get to have their special day be part of a reality competition show. All my friends have boring weddings that don't have a television show involved at all. I need to move to LA. J & M want the dinner to be "upscale ocean fare," made up of a scallop appetizer and sea bass entrée. The teams have 2 hours to prep and cook their dishes.
Since they won the doughnut challenge from last week Francis L and Leslie are going to be team captains. I can't tell you how much I've been looking forward to seeing Leslie as a team captain ever since it was announced last episode. Actually, I can tell you, a lot, I've been looking forward to it a lot. Leslie gets to pick first because he made the best doughnuts and he picks Christian. Francis L picks correctly and taps Willy. Leslie picks Francis B. Courtney goes to Francis L. They keep go ing back and forth with the rest. Ahran does not want to end up on Leslie's team and is so pissed when he calls her name and mispronounces it. Leslie does apologize. Jaimee, tattoo hipster nerd baker, is picked last and says she's used to it. Oh, Eeyore, don't worry you'll get picked second to last one day. The judges will be talking to the bride, groom and guests about what dishes they like best but the final decision will be based on what the judges taste and how the kitchens are run. The clock starts ticking and the teams are running to their outdoor kitchens. Gordon tell Joe and Graham that he's worried about this challenge because this kind of challenge is usually later in the competition when the home cooks are more experienced. This is doomed! If nerves of steal Gordo is scared what chance do those teams have?
Out of the gate, Francis L (Blue Team) is commanding his team with confidence and he lays out the plan for their dishes. Leslie (Red Team) lets everybody talk and figure out what they want to make. Decentralized power structure, like Occupy Wall St. Didn't realize the rich guy from Malibu was such an anarchist. Gordon visits the bride, Joplin, to wish her well. Joplin explains that she and Mike are the ones whom all their friends come to for food so expectations are going to be high. Good thing you have Leslie on the job. Gordon checks in on the kitchens. He likes what he see's with the Blue Team but the Red Team is a mess. Leslie can't even tell Gordon what the menu is. Francis B knows the dishes better. Of course this means that Leslie gets good 'ol Ramsay yelling at him. That's when Leslie decides to change the strategy to panic and keeps yelling at everybody, "talk to me." Oh, you have a better plan? All those talk-to-me's did bring the Red Team together…to mutiny.
Daniel decides to appoint Francis B as the captain. Francis announces to everyone that he's now in charge and everyone comes together. Leslie tries to help by yelling, "Scallops! Come on, let's go" but gets shut down by his new captain. Apps need to get served up to the bride and groom. The Red Team is ready to go but the Blue Team is behind because plating the scallops is taking too long. Joe brings the scallops from both teams over to the bride and groom. The Blue team scallops are seared and served with arugula salad, watermelon radishes, and pineapple sauce. The Red Team is scallops are also seared, with a pea and avocado puree and mango salsa. Joplin likes the Blue scallops but her new husband likes the Red Team's. Joe cracks a joke that it's their "first domestic battle." Joplin's fake laugh leads me to believe she's had improv training. The Red Team is getting all their scallops served on time but Blue is still having trouble. Gordon yells at Francis L that the scallops are cold and the dish is too complicated. The Blue team gets the last table served. Joe checks in with the guests and everyone loves the scallops. No clear winner so far.
Now it's entrée time. Gordon notices that the Red Team is planning on serving nothing but the sea bass on some broccolini. They were going to have potatoes but decided against it. Gordon tells them they've got to put something else on there and there's only six minutes to go. They decide to make a tomato and cucumber salad along with the seared sea bass on spicy broccolini. Blue Team is serving a seared sea bass with cauliflower puree, white asparagus and beurre blanc. Now the Blue Team is killing it and the Red Team is screwed because they have to make that salad. Jordan is on the Red Team and he'd just wandering around with nothing to do. It probably would have been less noticeable if he didn't have a dead look in his eyes and mouth hanging open. Jordan is the guy to yell at for the moment. The bride and groom are again in disagreement. Joplin likes the Blue and Mike prefers the Red. Joe makes another joke, Joplin laughs, you get it. The last plates are getting out and Tyler is tasting the food. Christian loses it and starts screaming "no more eating!" Gordon doesn't like to be left out of a good yelling so he joins in. The last plates are about to go out but the Red Team is short 2 fish. Yikes. Gordon loudly tells them to send out two half portions to make up for it. Everyone is served and the guests love everything. Still no clear winner based on taste.
Decision time. All the home cooks stand in their teams as the whole wedding sees who won the challenge. Joplin is holding a red and blue bouquet and tosses the winning team their bouquet. Of course it's Blue. Did you think the team that was short on fish and suffered a coup was going to win? Blue Team is safe from the Pressure Test and the Red Team needs to clean up the kitchens. As they're cleaning Leslie and Ahran get into a good fight. Classic Les being a douche and making an teenager cry. The best line is when Leslie tell Ahran to "grow some balls." He is lashing out because everyone clearly hates him. I hope he doesn't go home because Leslie freak outs are one of my faves.
Back to the kitchen for the Pressure Test. Only 3 cooks need to compete in this. Gordon asks Leslie to pick three people from his team to compete. Oh no, you guys feel stupid now for messing with man from Malibu. Les picks Christian because he's a know-it-all, Daniel because he complains, and Ahran because she needs to grow some balls. The Blue Team is even heckling from the balcony on the Ahran choice. Elizabeth calls him a coward. After Leslie talks shit about those three, Gordon rips the rug out from under him and reveals that actually he's not picking anybody. Just wanted to embarrass Leslie. That was fun. The judges each pick someone they think performed poorly. Gordon picks Leslie, Graham picks Jordan and Francis B is Joe's selection. The Pressure Test is medium-rare NY strip steak and frites. We get to hear about how American steak is even though they're calling fries, frites. They judges walk around and check on progress. Leslie's steak looks awesome. Jordan looks lost but he usually does because he's a mouth breather. The judges all like Leslie's steak. Jordan has a big piece of fat on his steak. Francis has started cooking too early. Courtney starts giving Francis advice from the balcony. She suggests a compound butter on the steak. Francis takes that suggestion. Other cooks are helping Francis B from the balcony because they hate Leslie. Nobody like Leslie. Wait, Willie likes Leslie? Willie says "Team Leslie all day, America." He even calls out "Go Leslie" from the balcony. No way. I trust Willie. Maybe Leslie is just misunderstood. It's fun to hate him though.
Time's up, let's see those steaks. Leslie is first. Gordon cuts into it and the medium-rare is nailed. His frites are a little soggy though. Graham cuts into Jordan's steak and it's medium. Overcooked and has fat on it but his frites are seasoned well. Francis B's steak looks good with the butter on top. Joe cuts into it and it's medium too. Aw crap, it's the same as Jordan's. Joe likes the flavor and the fries are good. Leslie is not going home. Let's not draw this out; Jordan is going home. Gordon tells him he's young and has a good future and can hold his head up high. Jordan says he'll hold his head up and starts to cry. Put that head back down, cry baby. Just kidding, Jordan but start breathing with your mouth closed. Leslie lives. Team Leslie all day America!