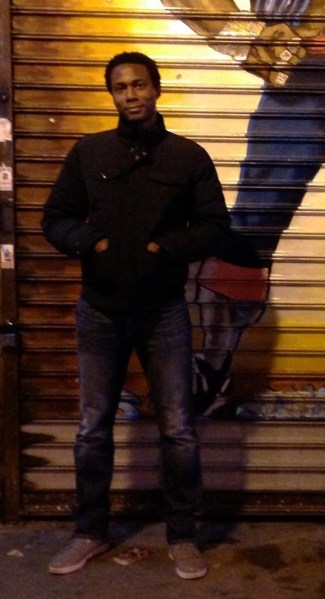 The New York Times sexed up its local coverage this weekend with a long and in-depth story, featured on the front page of the Sunday metro section, on an underground strip club-cum-brothel in the city. The article, titled "A Strip Club in Manhattan Proves That Vice Is Hard to Kill," was written by Times reporter Mosi Secret, who now covers sin and vice in all its permutations, a newly minted beat conceived by city editor Dean Chang.
"I always thought that one of the more compelling things you could ever cover in New York was sin," Mr. Chang told the Observer. Mr. Chang worked for 17 years as a reporter and editor at the Daily News before moving to the Times in 2008. "You could have a franchise on sin working there," Mr. Chang said of the News. "At the Times, it's sort of different."
Naturally, the article and the new beat caused a stir on social media platforms, most notably among journalists, who expressed their envy and surprise that such a beat could exist and noted that Mr. Secret has the perfect name for his position.
But Mr. Chang said he didn't come up with the beat to provoke. "This is not an excuse to suddenly run titillating stories in the New York Times," Mr. Chang explained. The idea, he said, was "to cover things, places, issues that wouldn't naturally have a voice in the metro section."
He initially floated the idea past his colleagues, including Wendell Jamieson, the paper's metro editor, and when it was approved, they settled on Mr. Secret, who's worked at the Times since 2010, for the position.
"We wanted to give him something that he could really sink his teeth into," Mr. Chang said.
A former reporter at ProPublica and alternative weeklies, Mr. Secret had been tasked to cover federal court in Brooklyn before he moved on to the paper's scintillating new beat, which is to say, he was ready for a change.
"This is probably the most fun I've had at the Times," Mr. Secret told the Observer.
While Mr. Secret was attracted to the opportunity for the obvious reasons—who wouldn't want to cover sin and vice for the Times?—he said he's not an "adrenaline junkie."
"I'm not that kind of reporter," Mr. Secret said. "I do enjoy observing and thinking deeply about the things I see. I also enjoy crafting language, and this assignment allows me to do that."
He is looking forward to getting out into the streets and working on a beat that affords him the opportunity to do long-form, narrative features, which he excels at, according to Mr. Chang. (Mr. Secret recently published a long piece in the Times Magazine on Brownsville.)
Mr. Secret was reluctant to reveal what he's working on but mentioned that he has a number of stories in the works. The beat will focus both on sin's seedier side (prostitution, for instance, the subject of his first article) and its more upscale counterpart—high-stakes poker, say. Mr. Secret plans to stay on the beat for about a year, he said.
In the meantime, it's still a "work in progress," said Mr. Chang, who is figuring out how to direct the coverage of sin without encroaching on other beats at the paper. "Murder is a sin but it's also a crime," Mr. Chang said, "so it's likely that that would be covered by our other beat reporters."
Mr. Chang also noted that while the inaugural article was well received, some readers were surprised it ran in the paper, given the subject matter (though Maureen Dowd may have softened longtime Times readers to the idea of vice with her pot-infused dispatch from Denver's front lines today). Ira Stoll, for one, who writes the blog Smarter Times, took issue with the fact that the article "leaves several questions unanswered," such as the name of the lawyer who introduced Mr. Secret to the strip club. "The whole story is quite un-Timeslike," Mr. Stoll concluded.
Mr. Chang defended the article and said he has no regrets about running it. "There are a lot of opinions about what makes a good New York Times story, and not everyone's going to agree," Mr. Chang said. "But I feel very strongly that what we did was a Times story in every way."
Given the name of the beat, though, did Mr. Chang view the new coverage as a way to move in on the territory of magazines like Vice, which offers in-depth, alternative and often, yes, titillating examinations of society's darker underbelly?
"No," Mr. Chang said, "we're going straight for Playboy's readership."