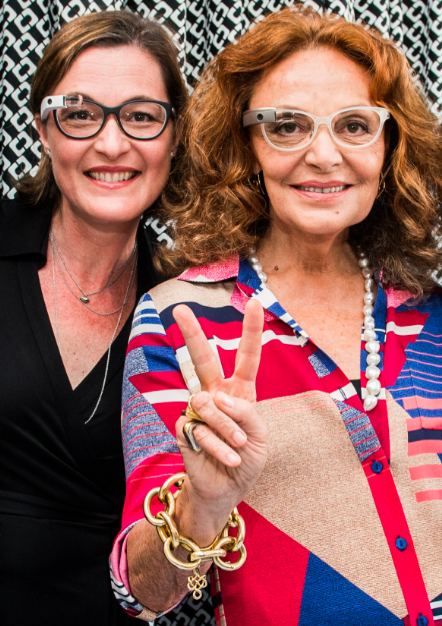 Google Glass is still largely known as a high-tech toy for nerdy types with disposable incomes, but there will likely come a time when there are as many face-computers on the sidewalk as there are people talking on their smartphones. Google Glass is here to stay — and a collaboration with Diane von Furstenberg just might bring the face computers out of Nerd Valley and into luxury territory.
The DVF designs range from a ladylike cat-eye frame to a futuristic, '80s-style opalescent aviator. Prescription DVF frames will run you $1,725, while shades will cost $1,620, Elle reported earlier this month.
This is the first time an entity outside Google is releasing frames for Glass (a partnership with Ray-Ban's parent company, Luxottica, was announced in March but hasn't yet yielded any product). The frames will be available on Google's website and NET-A-PORTER on June 23, DVF announced in the middle of the night on June 3.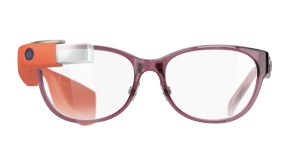 Diane von Furstenberg has been known to inspire sartorial paradigm shifts. Her wrap dress is practically a symbol of the 1970s women's liberation movement. This makes her a solid choice for Google in its bid to make Glass into a must-have accessory. When it comes to glasses, the DVF brand has worked with Marchon Eyewear since 2009, so Marchon had a major role in translating Ms. Von Furstenberg's vision and brand into the perfect frames for Google Glass.
Leslie Muller, Marchon's Vice President of Design, helped to create the new frames at the eyewear giant's Midtown Manhattan design center. Marchon is part of VSP Global, which also handles vision insurance and optics, so the DVF collection includes not only sunglasses, but also glasses that can hold a prescription lens. In fact, VSP has long partnered with Google to provide vision care insurance. We caught up with Ms. Muller to find out what it was like to create the DVF Glass line, and what she thinks the future holds for eyewear in general.
What about Glass makes you think it's ready for incorporation into the mainstream?
I've worn glasses my entire life. So for me, Glass was a natural extension of hardware that's already on my face, like millions of other people. I'm a designer, so I use my hands a lot. Say I'm inspired to sketch or draw or sculpt something. Instead of looking down at my iPhone, which is glued to my hand, I can just ask Glass to look it up and I can see through my lens and use both hands at the same time, which is quite empowering. So my posture is going from putting my head down to looking up into the world.
I've read studies that say slouching into your phone actually has a huge effect on your demeanor.
Your psyche sort of slumps down, instead of this positive, outward feeling of, "Wow, I can do anything." Also, I think we're living in the C generation, which is the connected generation, and we're sharing everything. What do we do when we're in the middle of some amazing event? We stop, we pull out our iPhone and say, "Wait a minute," and take a photo. Here, it's completely seamless. You say, "Okay, Glass, take a photo," and you're experiencing the moment.
Some of the new DVF frames remind me of The Terminator. They look futuristic, but in a retro, '80s way. Is that what you were going for? Where'd you look for inspiration when designing the frames?
Let me explain what we had in the collection, we designed the first optical frame for women with a soft cat-eye shape. I studied a lot of different faces, and wanted a shape that would flatter most female faces. It's in plastic as opposed to metal. That's a soft, feminine approach… In the sun shades, there's one that's aviator-shaped and has a trompe l'oeil effect. Aviator is one of Diane's iconic shapes, and it represents adventure and exploration for her. It's sort of a nod to her. It's a tongue-in-cheek play on the aviator's design, because they're usually metal.
Did you try to make the designs more modern, instead of classic? It seems like a classic frame wouldn't really make sense on someone who's got a computer on their face.
The challenge that was so exciting was to combine the Glass device with Diane's aesthetics, which really became modern, feminine classics with a twist. It brought that edge to it.
Aside from the aviator design, what are some of the other elements that make the frames uniquely DVF?
Color — that's a big part of her DNA and language, so we worked on the color for a long time. For the optical frame, we developed five colors. You can now mix and match the color of the device with the color of the DVF optical frame. It empowers the DVF woman to express her own feeling. I'm going to be more classic and do dark brown, or I'm going to do bright colors because I'm feeling very Saint Tropez. Or, I want a cotton white frame with a beautiful turquoise [Glass]. That really embodies the spirit of Diane's collections with her colors and combinations of colors that can be unexpected but beautiful.
Glass is not your average accessory, and might need celebrity endorsement to become accepted by the mainstream consumer. Did you have any celebrities in mind when designing?
Diane was really the muse. She is so confident with her vision and what she believes in, that I think those iconic faces are gonna come to her and will resonate with this. But I didn't have any specific person in mind past Diane and who her customer is.
There's a stigma against Glass Explorers now, to the point where some people refer to them as Glassholes. Do you think the new DVF collection will help bridge the gap and turn Glass into a luxury item? 
I do believe that. This is a moment of time when it's important to remember, when you go back, that computers at one point used to take up an entire room. Now, a computer sits in the palm of your hand. The first cell phone was the size of a brick and people were offended when you'd walk down the street and see people talking into a giant brick, like, who is that? This is one of those moments in time where it's going to take time for people to become more comfortable [with this new type of technology]. I think it's another one of those steps in the evolution.
Is Glass's move to being a luxury item a natural progression for a tech accessory? Why not make Glass truly accessible through, say, a collaboration with Target?
I think there's a division between something you wear on your body that expresses who you are versus your phone. I could walk into a meeting, we all place our iPhones on the table, no one is upset or worried. But when you wear something on your face, it's an expression of who you are as an individual. It ties back again to the incredible portfolio of brands Marchon has. You now can connect it to a designer you resonate with, so that it's no different from, "Oh my god, I love your handbag." Your bag is functioning in a certain way. Your eyewear is now a platform that's functioning in different ways and empowering you.
So the fact that it's worn on your face might be why people are nervous about Glass?
Absolutely, [it makes] a huge difference. I always say I have one foot in ergonomics and technology and classical medical devices, and the other foot is in fashion and trends and the emotional connection. That's not only for sunglasses, but optical as well. We're in a moment now where optical is more of a coveted item. A younger generation is wearing [glasses] if they don't have to. They feel good in them. It's the perfect storm right now, with partnering with Glass and DVF to pull all those elements together.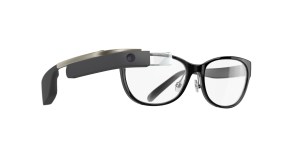 What kind of Glass functions do you think the DVF woman will find most helpful?
I love this connection. When we work with Diane, she always comes back and tells me about trips she's been on. She shares all of her comments and her own personal photos around the world. She's a world traveler. One of the exciting elements Glass will be able to bring is the element of exploration. [Newer versions of Glass software can] translate a sign visually if you're in another country. You can look at a sign, and [Glass] will change it so you see it in English. That's magical. [Glass's functions can] empower that DVF woman even more, and she'll look glamorous at the same time.
It's been tough to merge fashion and technology in an effective way. Many collaborations feel unnecessary or gimmicky. What makes you think that this collaboration will be a success?
It needs to be a seamless integration of both [fashion and tech]. One cannot eclipse the other. There needs to be a reason for both. We're featuring a new design that's for women and designed by women, so you're bringing technology, fashion and optics together and coming up with the first co-blended product on the market for Glass.
Glass has an image, right now, of being male-dominated. Do you think this could empower women to give it a try?
Exactly. Through working with our innovation lab and Marchon, this is really just the first step. We're excited and looking forward to the next phase and evolution of where eyewear is going to go as a category. It's a very exciting time and it's just the beginning.