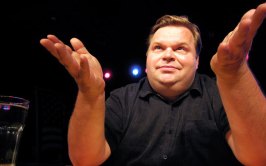 Mike Daisey always has something to say. The dot-com bust, lying, cell phones, Tom Ford, capitalism—Mr. Daisey has no shortage of opinions on all of these things. So in the aftermath of the Santa Barbara shooting and the #YesAllWomen reverberation, it came as no surprise to the Observer that the New York-based monologist would have a word or two to add to the discussion.
Mr. Daisey planned on giving a monologue on June 25 at the Public Theater's Joe's Pub entitled "Yes All Women," echoing the words of the viral hashtag. But first, he had to check his privilege.
When he announced the title of his show, Twitter users sent in a flurry of responses, calling for him to re-evaluate its name. To title his monologue "Yes All Women" would be to "hijack something important," one woman tweeted at him. She went on to suggest "Yes This Man," granting him permission to use it. In a letter of apology and explanation, Mr. Daisey announced on June 18 he would indeed adopt the new title.
Though Mr. Daisey emphasized to the Observer that there are no messages when it comes to monologues, the complication of naming his performance speaks to a central question of the show.
Where do men come in? (If at all.)
"There are a lot of artists who talk about gender and identity constantly, but there are very few men who talk about it and that's the prerogative of power," he said.
He added, "We live in a world where 50 percent of the people are not fully recognized as human beings. The other 50 percent is responsible for that…It's something that's endemic to everything that runs across every culture. I don't know how it's not the only thing we talk about."
But, Mr. Daisey admitted, it's not easy for every man to say "yes this man." Amid the 140-character stories of women's experiences with sexism and gender violence were those who insisted that #notallmen are oppressive. Mr. Daisey said he maneuvers the defensiveness that often arises from these discussions with careful rhetorical strategies.
"I use both comedy and tragedy to alternate between them to generate a kind of empathy and to tear down emotional walls. I haven't done the show yet, but that's what I'll be trying to do. Of course they feel uncomfortable; they're lying to themselves. It's hard to look at your complicity in a system that's unjust. It's painful," he said.
Some outlets are still suspicious of Mr. Daisey's intentions. In a recent article, TIME calls him the guy who lied about Apple sweatshops on NPR in 2012. In a retracted episode of This American Life, Mr. Daisey allegedly lied to fact checkers about his experiences visiting a Foxconn iPad factory.
Mr. Daisey's now-infamous NPR moment is one of the reasons many critics label him as controversial. He believes it is a slight misnomer.
"It's not actually my job to be controversial; then I could just perform naked or do any number of stunts. My job is looking for something that provokes a response from the culture at large," he said, adding, "That comes with inherent risks—it doesn't always work out. And you sort of take your lumps and you apologize when you feel you've done wrong and you keep on working."