[vimeo 99149575 w=500 h=281]
It takes Mother Falcon a while to set up on the cramped stage at Littlefield, a dimly lit Brooklyn bar. Shuffling around the nearly 20 instruments cluttering the space, the 12 members of the band find their seats and start to tune. Concertgoers stand expectantly, faces turned towards the black-clad players who all of a sudden burst into a frenzy.
Plucking strings, slamming pianos, striking cellos, dancing with violins, Mother Falcon unleashes their pent-up instrumental emotion into the air. They aren't shelling out classical—they have their own music on their mind.
Mother Falcon is like any other emerging indie band. They squeeze into small Brooklyn clubs, even smaller tour buses. They list Arcade Fire and Beirut as influences and made a name for themselves at SXSW.
But unlike other indie bands, Mother Falcon is an orchestra.
At its peak boasting 23 members, the self-proclaimed "collective" rings of chamber rock, classical pop, or orchestral indie, depending on who you talk to. But the band itself isn't quite sure where it falls. "I would venture to say everyone in this band has their own so what usually works is just listing out the instruments, because for us that's really the only imitation, it's just the tools," guitarist/saxophonist/vocalist Matt Puckett told the Observer.
As the musicians scurry across the stage, switching instruments and trading places between songs, the nebulous variety of Mother Falcon's songs is apparent. "Let's get sexy," accordionist/vocalist/keyboard Tamir Kalifa tells the crowd before starting in on a blues-y, sax-heavy instrumental.
Just moments earlier, Nick Gregg, the band's founder and the closest thing to a frontman, had led the group through a cello screeching song that harkened back to the brute force of 2Cellos.
Even with all the change of sound and instrument, the band maintains a seamless focus, moving effortlessly between their hard rock and summer pop originals. The group writes all of their songs together, a process that to many on the outside would seem like an utter disaster, but one that Mother Falcon's members find fruitful.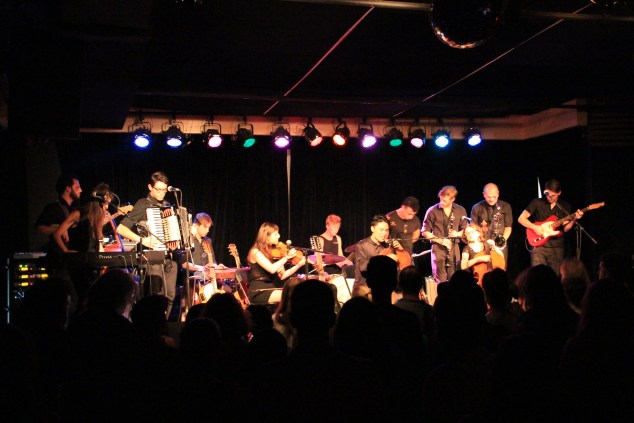 "You get so much more contribution to the music that it just lightens the load for everyone," saxophonist Andrew Fontenot said. "In this band, it's allowed to be much more of a collective and a family, you don't have to spend all your time with one person, personally or musically."
This show is the band's sixth in Littlefield, after a stint cramming onto the bar's stage every Tuesday of June 2013. "It's great to be back, to see the sights, smell the smells, walk some bridges," Mr. Kalifa joked with the crowd.
Some of the band members, many of whom met in high school at jam sessions after orchestra practice, come in and out of the yearlong tour, joining for legs that fit into their schedule. As a result, the music is constantly rearranged and re-orchestrated to fit the current number. "My dad would always tell me, 'Son, the newest song is always the best song," Mr. Fontenot said. "I feel like a lot of the time, the new songs, the ones we're re-orchestrating are our favorite songs because they're exciting. They really energize us."
Songs like "Serpent Tongues" and "Marigold" drew the attention of NPR's Bob Boilen at SXSW in 2013. He later invited them to perform in-office at a NPR Tiny Desk concert, leading to new waves of recognition for their work. Described as snappy, stirring, and scrappy, their increasing time in the limelight has inspired them to move to greater aspirations. They are currently looking for opportunities to score films, Mr. Fontenot said.
But the band, together for five years and hitting their stride, isn't in this business just for the gigs. This summer Mother Falcon starts its third annual summer camp, where young Austinites come to not only learn tricks of the classical trade but also how to use their skills to compose their own songs.

After a brief stint backstage, the 12 players plodded back onstage for an encore, playing their crowd-pleaser "Dirty Summer" that rocketed them onto the scene last year. Full of Of Monsters and Men-like shouts, the song brings every audience member into the web of trumpets, violins and steel guitars.
"I don't see how people do it in regular bands anymore," Mr. Foutenot reflected at the night's end. "After this, you can't."