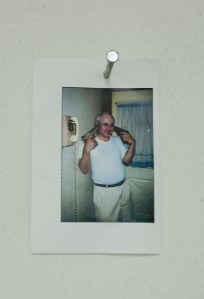 After the kegger as après le déluge. An untitled, seven foot high transparent Chinese screen of hollow steel girders by Carol Bove snakes through the middle of Shoot the Lobster's basement space on Eldridge Street, around a drain in the concrete floor, between two duffel bags fabricated by JPW3, the young painter who also organized the show, and Sara Gernsbacher, working together under the name "Patches," from discarded canvases of his, almost scraping the ceiling. Next to it is RPT1, a debauched popcorn maker installation by JPW3.
Ms. Gernsbacher's 2 Minor, Adrenaline Mother, and Eraser Dice, all mixed media on canvases about a foot high, are murky visions, in blue, blood-streaked, and green, respectively, of the pre-creation void, alien death chambers, or the bottom of a sneaker. The Big Sleep, also by Ms. Gernsbacher, is a lovely little window into somewhere else: an orange silhouette, on silver foil, under a mostly transparent honeycomb silicone scrim. On the walls are intense blue street-scene Polaroids by John Ingiaimo; on the floor at the end of Ms. Bove's snake is a stand of eccentric wooden walking sticks, some with carved snakeheads and all marked JEB, by Bruce Asch, JPW3's cousin; and around the room are three couture-DIY chairs by Jessica Reaves. Maraschino Fairy is a wooden chair with wicker seat, masked in fuchsia silk; If you want to know what will bring you back to life, it's nothing, irregular pieces of foam covered in embroidered nylons; and Lay on your friend's hand, a mass-market Eames upholstered with the lining of a shearling coat.
On the back wall is a photo of Mr. Ingiaimo's father posing between a phone with the wrong color handset and a kitchen door, pointing two heavy pistols jauntily against his own head. On the floor at the side, some of Mr. Asch's handmade wooden candlesticks.
(Through June 29, 2014)