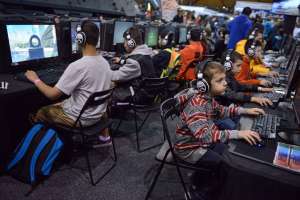 Kids who spent their high school days slaying dragons in WoW never suspected they'd be the jocks when they got to college.
Robert Morris University in Illinois is recruiting video gamers as varsity athletes and offering generous scholarships as part of a competitive gaming initiative, ABC reports.
"This is a student population that has been under-served," Kurt Melcher, associate athletic director at Robert Morris University, told ABC. "It's massive for high schoolers. They play this game nonstop."
The team will consist of a reserve squad and 30 varsity gamers who will make up three teams of ten.
The recruited varsity players will have 50 percent of their tuition, room and board covered by the school. The reserve players will have 25 percent of their total costs covered.
The scholarship, which is aimed at League of Legends enthusiasts, was only announced last week, yet more than 80 prospective students have already applied.
The school hopes that considering gaming a varsity sport instead of a club and treating the players exactly how they treat varsity athletes will inspire competitiveness and lead to victories over schools like Harvard, Arizona State and Berkely. They'll be playing in the Collegiate Star League which consists of 103 universities.
"Little Robert Morris looking to beat Berkeley on something computer oriented would be a huge feather in our cap," Mr.Melcher told ABC.
They're prioritizing video games, but RMU isn't playing around.