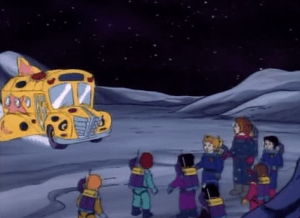 The overwhelming success of shows such as House of Cards and Orange is the New Black has proven that Netflix knows how to bring quality original content to online streaming.
Their next endeavor in original programming — a reimagined and computer-animated The Magic School Bus — is sure to be quite the adventure.
Netflix is set to release 26 episodes of the show, The Magic School Bus 360, beginning in 2016, The Verge reported.
The idea came from the fact that the program is one of the most watched children's educational shows on the site, even though its latest episodes were produced in 1997, Ted Sarandos, Netflix's chief content officer, told The Verge.
While Ms. Frizzle's field trips were formerly to archaeological sites, outer space and the inside of the human body, it seems students will be spending a lot of time exploring the tech world this time around.
The show's updates start with computer animation but transcend into plot lines as well. It will feature an upgraded school bus for the 21st century along with recent innovations such as robotics and wearable smart technology.
This announcement is exciting for the reminiscent and the young children who don't even know what they're missing.
Let's just hope they don't change the amazing theme song.