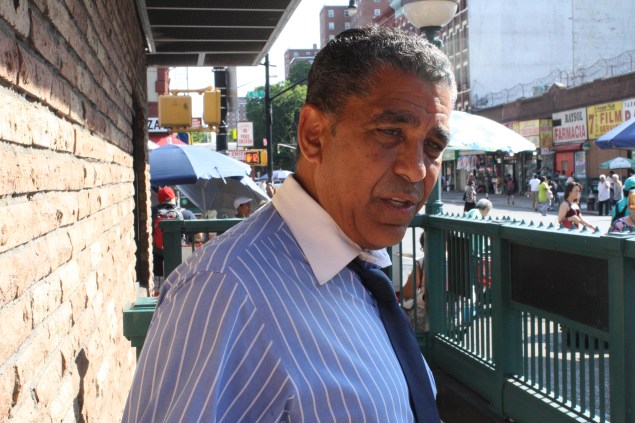 Yes, Congressman Charlie Rangel was a winner Tuesday night. And State Senator Adriano Espaillat, undoubtedly, was a loser.
But beyond the top combatants, the bitter Democratic primary for Mr. Rangel's seat produced another crop of winners and losers. Politicians, consulting firms and party machines all put their reputations–and bragging rights–on the line when they waded into the upper Manhattan and Bronx-based clash between Mr. Rangel and Mr. Espaillat.
Though the Associated Press declared Mr. Rangel the victor in their rematch, Mr. Espaillat is not yet conceding. With the likelihood of paper and affidavit ballots producing the roughly 2,000 votes Mr. Espailat needs to match Mr. Rangel quite low, the Observer decided to identify a few winners and losers beyond the four Democrats who ran in the 13th Congressional District race.
Winners
1. Rasheida Smith and Neal Kwatra: Ms. Smith, Mr. Rangel's campaign manager, and Mr. Kwatra, a top consultant, masterminded Mr. Rangel's survival act. Ms. Smith, a former consultant to New Jersey Senator Cory Booker, can take credit for comfortably winning a race where Mr. Espaillat was a true existential threat to Mr. Rangel. And Mr. Kwatra, a former chief of staff to Attorney General Eric Schneiderman, adds another large feather in his cap and ensures he can drum up much more business for the firm he founded, Metropolitan Public Strategies.
2. 1199 SEIU: George Greshman, the president of the influential healthcare workers union, keeps picking winners. After backing Mayor Bill de Blasio's successful bid last year when few labor or political elites were doing the same, Mr. Gresham ignored many other labor leaders and endorsed Mr. Rangel. Heading into the election, he quietly bragged about the extensive get-out-the-vote operation he was going to lend the veteran pol: Mr. Gresham, it turned out, had plenty to boast about.
3. Bill Clinton: The former president's endorsement came as much of the city's Democratic establishment was deserting Mr. Rangel. While President Barack Obama snubbed the congressman and endorsed no one, the Big Dog robo-called for Mr. Rangel and may have even boosted black turnout in Mr. Rangel's base.
4. The Central Harlem Democratic Establishment: Councilwoman Inez Dickens, Assemblyman Keith Wright, Assemblyman Denny Farrell and former Assemblyman Adam Clayton Powell IV all closed ranks around Mr. Rangel and saw turnout remain robust in the traditionally African-American strongholds of Harlem. The district may be growing more Latino and black political power may collapse, but that day has not arrived yet. If Mr. Rangel retires in 2016, pols like Mr. Wright and Ms. Dickens can even dream of viable congressional runs after their base showed its mettle.
Losers
1. Council Speaker Melissa Mark-Viverito: The new speaker won big when she became the first council member to endorse Mr. de Blasio when he ran as an underdog candidate last year, but she failed to drive turnout for Mr. Espaillat in her East Harlem base. Despite a dogged campaign schedule, Ms. Mark-Viverito watched as Mr. Rangel, the candidate she endorsed in 2012, trounced Mr. Espaillat on her home turf. To add insult to the proud Puerto Rican's injury, Puerto Rican voters appeared to stick with Mr. Rangel, showing that Ms. Mark-Viverito's surging profile in City Hall does not mean she can move votes on her own block.
2. Rev. Al Sharpton: Officially neutral in the race, Mr. Sharpton passive aggressively–and not so passively–tweaked Mr. Rangel at every turn. An ally to Pastor Mike Walrond, a failed contender in the race who works for Mr. Sharpton's National Action Network, and a former endorser of Mr. Espaillat's, Mr. Sharpton made it clear he did not favor Mr. Rangel at any point in the acrimonious contest. Harlem, Mr. Sharpton's political backyard, took no cues from the bombastic reverend and voted overwhelmingly to re-elect Mr. Rangel.
3. MirRam Group: Though the consulting and lobbying firm–founded by two Latino political heavyweights from the Bronx–remains a mainstay in minority political circles, it has suffered two major losses in two years after failing to propel Mr. Espaillat past Mr. Rangel in what many saw as a winnable race. Former Comptroller Bill Thompson, MirRam's mayoral client in 2013, came up short against Mr. de Blasio and his own endorsement of Mr. Espaillat did little to move the needle.
4. The United Federation of Teachers: Is the UFT's endorsement really, as former Mayor Michael Bloomberg used to say, the kiss of death? The powerful teachers union continues to pick losers in prominent races. A year ago, the union failed to push their chosen mayoral candidate, Mr. Thompson, into a run-off election with Mr. de Blasio, and now finds itself on the losing end of the city's most high profile race of 2014. At least UFT President Michael Mulgrew appeared conflicted about his union's vote to endorse Mr. Espaillat when the Observer questioned him about the move in May.