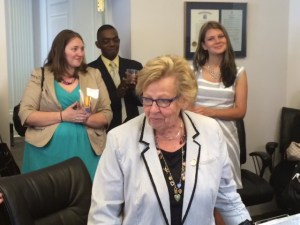 TRENTON – A group of about 50 of New Jersey's most powerful female politicos assembled at a Thursday night fundraising event in a West State Street lobbying firm brownstone. Looking lingeringly down the street at the State Capitol's golden dome, it was clear from the comments of the women present in the room that although they may have made a dent in Trenton's traditional old boys club, they knew what they wanted and that they still had a mission to fulfill.
"Our mission is to elect progressive women, and we also need to help then fund their races. That's a difficult thing to do," said Grace Strom Power, past chair of the bipartisan Women's Political Caucus of New Jersey Political Action Committee (WPCNJ PAC) which works to get more women elected to the state Legislature. "By you supporting us, it help us support them and take care of our friends."
The current state Legislature is made up of less than 30 percent women, a fact not lost on state Senator Diane Allen (R-7), who was one of at least a half-dozen New Jersey female elected officials present at the event.
"We're all working for the same thing. We're all working for the same policies," said Allen. "We're giving policy training, we're giving tools so that women who are running for office can succeed.
"I'm not going to disparage the old boys network. It's worked really well for the boys," Allen added. "Now we're going to get together, and it's going to make a big difference. Women are the rising tide in politics today, there's no question about it. We're trying to see how somehow we can bring more women to the Legislature this year. The truth is that until we reflect the people we represent, we don't have a real democracy."
Jeannine Frisby LaRue, senior vice president at Kaufman Zita Group, one of New Jersey's top lobbying and public affairs firms, is strongly supporting former First Lady, U.S. Senator and Secretary of State Hillary Clinton for President in 2016.
"We believe that power comes from the bottom up. What we're saying is that it doesn't necessarily take an elected officer for the power of getting someone in the White House," said Frisby LaRue. "This is a non-partisan group. They don't care if you're Democrat or Republican. It's about the issues, such as pro-choice and pay equity."
When PolitickerNJ.com asked a group of assembled female politicos if the current budget battle would be waged differently if women were in complete control of the New Jersey's political leadership, lobbyist Kelly Stewart Maer leaned in and loudly interjected.
"Women get it done," Stewart Maer said, noting the ascent of Carpenters union official and former Clinton Town Councilwoman Arlene Quinones Perez to the top spot of the Hunterdon Democratic Party. "That's it. We're rising up. That's all you need to know."
Hunterdon, it should be noted, is a solid GOP county.
After a long time as the doyenne of the state Legislature, state Senate Majority Leader Loretta Weinberg (D-37) looked towards a time when New Jersey politics might no longer still resemble a scene from the cable TV series "Boardwalk Empire," set in Atlantic City in the Roaring Twenties. For Weinberg, the future is now.
"It takes more opening of the party apparatus to encourage women to run in districts where they have a chance to win, not just in the kamikaze districts where they are kind of tokens," said Weinberg, who has been in the Legislature since 1992. "We need women's involvement. We need their voices."