When graphic designer Nico Guillermo moved into his studio apartment in Greenwich Village, just blocks away from Union Square, light and space were two of his biggest priorities. After purchasing his studio apartment, he removed a wall in the apartment that blocked light coming from the windows in order to to create a single, open space. Motioning to one wall featuring built-in shelves mounted against the exposed brick, he says in tearing down the existing wall "we discovered [what used to be] two huge windows." Another building has since been built against those windows, but they've found a new purpose as beautiful frames for the shelves.
Guillermo chose the neighborhood in part because he was in search of a studio that had something special.
"There were a lot of cookie cutter, boring studios around here, he says. "I wanted something with potential." In addition to removing the wall and exposing the brick, he created extra height in the bathroom by removing the existing ceiling to expose the pipes.
His artist's eye is also evident in the artwork covering the walls.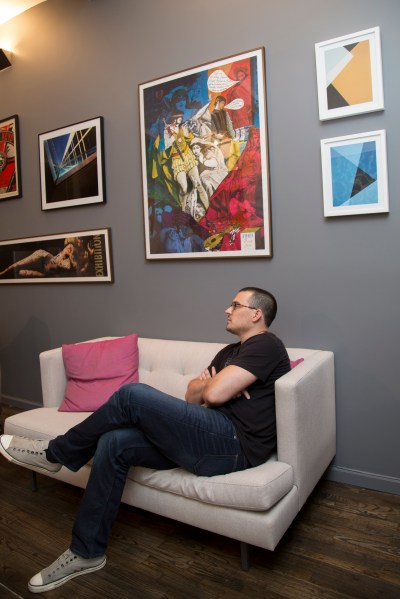 "This is from a great print shop on the west side…they sell all these vintage posters," he says, indicating a Dutch theater poster from 1969. It's perhaps a nod to his heritage, as he grew up in Holland, where his mother is originally from, before emigrating with her to the States. Later, his mother lived in New York and he would visit her on the Upper East Side, creating a desire in him to one day return to the city. After eight years of living in Florida, he finally returned to Manhattan, where he's lived for nearly a year.
Before moving into his Greenwich Village apartment he was renting on Chrystie and Stanton, in an area he loved, but his new neighborhood has plenty to recommend it as well.
"It's so centrally located here," Guillermo says. An explorer at heart, it's an asset to be able to easily travel uptown, downtown, or hop on the L to Williamsburg.
"I kind of venture out," he says of his preferred way to experience the city. "[But there are] a couple places around here I really like." Favorites include La Maison du Croque Monsieur on 13th street and Tortaria on University Place. He also liked to venture further east, to The Smith on Third Avenue. He has a standing soccer date with friends at Sara Delano Roosevelt Park on the Lower East Side, and so for post-game drinks so he prefers East Village spots like Sweet and Vicious or Tom and Jerry's.
Closer to home, New York institution Strand Books is an obvious favorite (Guillermo even has a small pillow with the Strand logo resting on his coffee table).
"I'm still kind of getting to know it," he says of the city in general. "[Greenwich Village] is a great place to get to know New York because I can just kind of explore it all." In contrast to the touristy bustle of Union Square proper, his street is quiet, at a welcome remove from the madness.
"If you were on the Lower East Side [for example], he says, "[There are] a lot of young kids running around." Though a bustling nightlife scene has its advantages, at home, "I like to just have peace and quiet," he says. His bright, airy apartment certainly fits the bill.
"I'm relieved to be back in New York, it's the best place for me," he says. As for who he thinks might be best suited for life in Greenwich Village, he thinks the right person is "Someone who doesn't easily categorize themselves in [one] kind of demographic box." From families to international transplants to young professionals, the Village has something for everyone.
What could be more quintessentially "New York" than that?