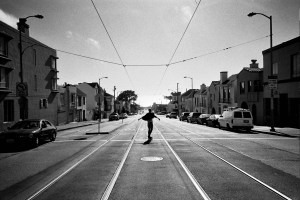 This model got a little bolder with baldness, Walter White style.
Kevin Kreider decided to skateboard from Los Angeles to New York City after losing all of his hair within two weeks to alopecia areata, according to Gothamist. A documentary revealing the meaning of life will accompany the trip, of course.
"I really wanted to empower myself, so I tried to do something that was totally unreasonable," he said.
Mr. Kreider told Asians on Film that employers asked him to grow his hair back, but he had no control over it. Instead he lays out 30 to 50 miles a day on his penny skateboard, citing his inspirations as Forrest Gump and Bart Simpson. He said it's "kinda painful," but his existential crisis hurt worse.
As a model, actor, and bodybuilder "you're very appearance-based," Mr. Kreider told the World Herald. "That's all I knew." He explained that he originally sucked at skateboarding, so it looks like dreams really do come true.
On his traverse, Empire City resident Mr. Kreider hopes to divulge what America is really like and to teach people in the fly-over-states a thing or two about Asian men.
"As part of this journey Kevin hopes to find out what it means to be Asian American and to have dates with women in rural America," Indiegogo reports, "who perhaps have only experienced stereotypes of Asian men, to find out what they think of interracial dating."
Mr. Kreider stays with anyone welcoming along the way and intends to learn as much as he can about their lives. He incidentally happened upon Iron Chef Viet Pham, who fed him breakfast and revealed the mysteries of the universe.
When he gets back to New York City, Mr. Kreider plans to pack up and move to the Golden State. Maybe they're less vain in Los Angeles.