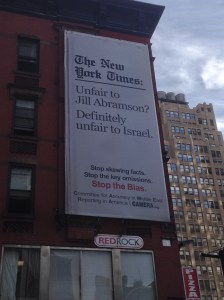 In what could be construed as articles found in The Onion or scripted segments on The Daily Show, The New York Times has run multiple stories focusing on Palestinian "suffering" in their coverage of three Israeli teenagers who have been missing since June 12.
What we have learned from the Times is that Kayed and Hassan Jaber, Palestinian truck drivers in Hebron (West Bank), have no trucks to drive because of a one-day solidarity hunger-strike with Palestinians in Israeli prisons. This act of defiance has "shuttered nearly all of Hebron's stores and industry." The Times' Jerusalem bureau chief Jodi Rudoren added in her June 16 story, "Worse, with Israeli troops limiting entry and exit as part of a crackdown after last week's kidnapping of three Israeli teenagers, the Jabers were worried that Monday's wedding party for Kayed's 17-year-old daughter would be ruined."
Ms. Rudoren's narrative fails to mention these inconveniences Palestinians are enduring are the result of the kidnapping of Jewish students by Islamic militants. The culprit, always, is Israel and its efforts to find its children.
"The growing search for them and their captors further destabilized Israeli-Palestinian relations, and challenged the new Palestinian government's ability to hold together disparate political factions and reunite the West Bank and Gaza after a seven-year split," wrote Ms. Rudoren on June 15.
The Times also informs the reader that West Bank radio is playing "war-like anthems interspersed with bulletins about how many tanks were invading what neighborhood." It's also Israel's fault that commerce is suffering as "the main thoroughfare, sweet shops and cellphone stands, car dealerships and clothing boutiques all sat idle behind roll-down gates or wooden shutters."
In true Rudoren form, she cleverly creates mental images with her words—showcasing Palestinian women, children and families "suffering" at the hands of the Israelis, instead of their militant brethren who perpetrated the crime.
"By Monday afternoon, women and children peered from rooftops and balconies as Israelis in combat gear conducted house-to-house searches in Taffouh, a hilltop village west of Hebron." She particularly focused on Ikhlas Emreish, who stood outside with "her husband and seven children, ages 1 to 18, after about 10 soldiers spent perhaps five minutes checking their quarters."
Complaints about treatment of Israel by the paper are nothing new—some Jews recite cries of Times bias more than they say the Shema. From inside the offices of the publication, staffers can see a billboard, three stories high, that poses the question, "Would a great newspaper slant the news against Israel? The New York Times does." Demanding the newspaper "stop the bias" is the Boston-based Committee for Accuracy in Middle East Reporting in America (CAMERA).
In a recent op-ed In The Times of Israel, CAMERA Jerusalem Director Tamar Sternthal wrote:
Once again, the Gray Lady conforms to its well-worn narrative in which, regardless of the reality on the ground, Israel stars as the wrecking ball of peace. According to the Times, it is not Hamas' kidnapping of Gil-Ad Shaar and Naftali Frankel, two eleventh-graders on their way home from school, together with Eyal Yifrach, an unarmed, 19-year-old civilian, that is responsible for eroding Israeli-Palestinian relations. Rather, the Times singles out Israeli efforts to bring the boys home as the key cause of friction.
Ms. Sternthal's analysis is spot-on.
On March 29 of this year, the Times ran a feature, "Remaking a Life, After Years in an Israeli Prison." The story showcased the life of Muqdad Salah, a Palestinian member of Fatah who murdered Israel Tenenbaum, a 72-year-old Holocaust survivor in 1993. Salah was freed last year by Israel as part of a prisoner release agreement brokered by the United States.
Lacing her article with warm and fuzzy quotes, Ms. Rudoren portrayed the convicted murderer as a kind soul and devoted family man wanting simply to "travel," to "see people" and to "breathe fresh air" but can't because a condition of his release restricts him from traveling and requires him to check in with oppressive Israeli security personnel.
In 2008, Israel Defense Forces (IDF) began a three-week incursion into the Gaza Strip to stop Palestinian rocket fire into Israel. IDF spokeswoman Anat (last name withheld) told me in an April interview the Times reporter "asked assuming questions and was never interested in the truth."
"I was asked why Israel fired on a tractor taking wounded civilians to the hospital," recalled Anat. "I was unaware of the incident, but told the reporter I would find out what happened."
Anat continued, "It turned out that the tractor was being used by Hamas as a shield and they were firing at us. But The New York Times reporter could care less about the truth. They had already determined what their story would be."
Regardless of the truth, The New York Times has created a narrative in which only Palestinians are victims and only Israelis are oppressors.
Paul Miller is a contributor to the Franklin Center for Government & Public Integrity. He serves as principal of Pauliegroup LLC, a Chicago-based new media and political consulting firm.