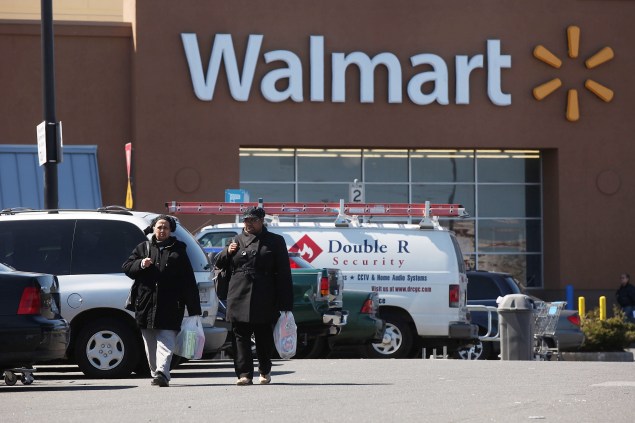 The West Coast is engrossed with protests against the government of Brunei (which owns the Beverly Hills Hotel) for its "extreme and inhumane" Sharia laws—and New York is engrossed with protests against millions of dollars in donations to non-profits by the world's largest retailer. As a capitalist (and a sane person) I am scratching my head.
More than half the members of the New York City Council joined in sending Walmart a "cease-and-desist letter" urging the retailer to stop making millions in charitable contributions to local non-profits. Yes, you read that correctly. This corporation—which gave $3 million last year to NYC charities—is being urged to discontinue its donations to the homeless, such as the water & blankets they provided after Hurricane Sandy. The arrogance of the elected officials who signed this asinine letter cannot be overstated.
Insanely, our "public servants" make these claims supposedly representing the citizens of this great city.  One wonders where this political correctness will stop in New York – which already ranks at the very bottom on the "Small Business Survival Index."
The leader of this lynch-mob, Daniel Dromm, D-Queens, was quoted today in the New York Post saying, "We have had it, our constituents have had it and everyone we know in this city has had it with [Walmart]" in urging charities to return Walmart money.
As Mr. Dromm urges charities to return funds, where does he get his money? Mr. Dromm—an outspoken supporter of the Occupy Wall Street protesters, and one who calls ROTC efforts in schools an effort to support America's "war machine"—is funded by the very corporations against which he shrilly rails. Mr. Dromm's financial disclosures reveal that his donors are employed by corporations including Goldman Sachs, white-shoe law firms Manatt, Phelps & Phillips (whose clients include energy companies Sun Edison & Peabody Energy & banking giant JP Morgan Chase), and employees of Jones Day (whose clients include oil giant Chevron.) Hypocrite.
The only words that New Yorkers should say to Walmart are "Thank you very much."
The City Council's continuation of the theme that Governor Cuomo first presented a few months ago—basically, if you aren't politically supportive of me you are not welcome in New York—must come to an end. Elected officials must not serve only those who voted for them.
This extreme rhetoric and agenda is bad for all New Yorkers. Free enterprise—and donations—must be welcomed in New York. When Frank Sinatra sang in New York, New York, "If I can make it there, I'll make it anywhere" I wonder if he realized how difficult New York would be in 2014.
Ronn Torossian is CEO of 5WPR, one of the 25 largest PR firms in America. He is a life-long New Yorker, entrepreneur, author & proud capitalist.