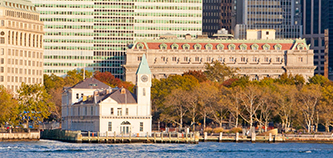 Ever enjoyed a cocktail at a waterfront restaurant in another city and thought, "If only there were more places like this in New York?" If so, good news is coming in the form of mortar, concrete and glass. Lower Manhattan is next in line to get an expensive—and much-needed—makeover, including hotels and residential buildings designed to appeal to locals, tourists and the next generation of Lower Manhattanites. Here is our hot list of developments to watch. 
 Pier 17
The Howard Hughes Corporation is in the midst of renovating the shopping mall at Pier 17 and has still-pending plans for two high-rise residential buildings, a hotel and open, high-end retail space. Locals are voicing concern that the project will rob the community of historic integrity, but planning laws are tight and the designs have yet to be finalized.
The Jade Hotel, 33 Peck Slip
Sensitively designed new projects include The Jade Hotel. "It's important to pay attention to the history of the neighborhood when you're working with a waterfront," said Will Obeid, president and CEO of Gemini Real Estate, currently in the process of converting the blasé Best Western at 33 Peck Slip into another Jade Hotel to add to its cool downtown lineup (the other Jade is on West 13th Street). Mr. Obeid revealed that the space's 40,000 square feet will be peppered with antique American furniture and a modern design based on historical outlines, a style which Mr. Obeid described as "nostalgia inspired by Colonial Williamsburg."
The space is also slated to feature a swanky new seafood restaurant, outdoor seating and a sophisticated cocktail bar. Mr. Obeid added: "We're hoping to bring foot traffic to the businesses and restaurants that have been struggling since Sandy hit."
Pier A Harbor House, 22 Battery Place
Pier A Harbor House at Battery Place is the city's last surviving historic pier, which is currently finishing up a $50 million renovation. The city footed $30 million of that tab. 
Developers at The Dermot Company have been working with the masterminds behind the bars and restaurants of neighboring Stone Street—Peter Poulakakos, Michael Jewell and designer Danny McDonald—to revamp the 35,000-square-foot pier that once welcomed arriving immigrants. 
The plan calls for a number of higher-end restaurants, an aperitif and Champagne bar, a balcony perched over the water and a third-floor event space that has already begun taking reservations. 
"We're absolutely behind as a city in terms of our waterfront. In other cities, they're the first places to be restored and celebrated," said designer Danny McDonald. "Hopefully, this is a step in the right direction. What better place to have a bit of fish than the mouth of the harbor itself?"
The Long Hall, designed for communal eating, is furnished with reclaimed wood, nautical decor, handmade blue tile and lighting fixtures; it also boasts an oyster bar and floor-to-ceiling windows.
Four fine-dining establishments will be nestled in rooms on the second floor and pay homage to specific people and landmarks. The Liberty Room, for example, will be outfitted with colonial furniture and Statue-themed knickknacks, while the Harrison Room, with its stained-glass windows and leather furniture, will be reminiscent of the Gilded Age.
Rumor has it that Pier A will host one of the city's largest nightclubs and feature a cabaret and live deejays. While it's still a bit unclear, a representative for Dermot confirmed that the venue will be similar to the destinations on Stone Street, with live music and, most likely, a deejay on the first floor.
50 West Street
Take a 15-minute walk over to the west side and you'll see the work in progress that is 50 West Street, a 64-story residential tower whose curved-glass façade will bring floor-to-ceiling views of the river into each of its 191 residential units. 
For those who want to move into the nabe—and can afford a minimum of $1.5 million for a one-bedroom—sales are officially underway. The 530,000-square-foot building cost in excess of $500 million to erect and design, and its one- to five-bedroom apartments will feature walnut cabinets and marble bathroom vanities. Thomas Juul-Hansen's Scandinavian aesthetic will be evident throughout. 
"Proximity to Battery Park and the World Trade Center makes it incredibly valuable. And because it is built on owned land, not leased land, the government can't raise rent," said Francis Greenburger, founder and CEO of Time Equities.
"To us, Battery Park represents a whole lifestyle that isn't available in other parts of the city. You can take sailing lessons, go for bike rides, play tennis on the courts or visit the ball fields with your kids," he added.
"Battery Park has one of the nicest esplanades in the world, but the East Side needs to vastly improve, which, fortunately, there are plans underway to do," said Mr. Greenburger.
Mr. Obeid concurred.
"Unfortunately, New York hasn't utilized its waterfront as well as it should have over the years," he said. "The shift we are seeing has been gradual, but the waterfront seems to be increasing in value at a rapid rate. There's a premium getting realized for waterfront property, and I think we're going to see some major changes in the coming years."