One afternoon in early February, the new speaker of the City Council stood with Attorney General Eric Schneiderman to announce that the scandal-plagued Puerto Rican Day Parade would be saved.
Along with Mr. Schneiderman, Ms. Mark-Viverito, a Puerto Rican native, met the press in the attorney general's drab Lower Manhattan conference room to tell them that more than half of the board of the nonprofit that managed the parade would be dismissed and replaced. A longtime private fundraiser for the nonprofit had siphoned more than a million dollars, and the attorney general-driven shake-up was, in the words of Daily News columnist Juan Gonzalez, "stunning."
But the new speaker, whose ascent to the second-most-powerful elected perch in the city once seemed improbable, wanted it known that Mr. Schneiderman could have gone further. After the press conference, Ms. Mark-Viverito, stone-faced, approached one of the few remaining board members. 
"Look, if it were up to me, I would have thrown you off the board," Ms. Mark-Viverito told the man, according to people with knowledge of the conversation. "This is no time for pendejos." The term, which translates loosely as "stupid person," mortified the board member. 
"He almost cried," recalled a source.
| | |
| --- | --- |
| In the year leading up to Ms. Mark-Viverito's rise, few political oddsmakers—not even her own colleagues—thought the aloof lawmaker could ever win over enough council members to be crowned speaker. | |
It was a reminder that the old Ms. Mark-Viverito—the blunt outsider who was once thought too corrosive to be elected speaker—had not entirely disappeared, even though a lack of controversy has characterized her tenure so far. As a negotiator, she is more subtle and restrained than her predecessor, Christine Quinn, who played her hand like an Irish ward boss. So far, Ms. Mark-Viverito has been effective; together with Mayor Bill de Blasio, she has swiftly enacted an expansive paid-sick-days law, a package of 11 bills to meet the mayor's goal of slashing pedestrian fatalities, and, against conventional wisdom, democratized the council, thus checking her own power. She even warmly says hello to her colleagues, something she once struggled to do.
"I never really figured she'd go from barely surviving politically to then becoming speaker. To me, it's an amazing journey," said Angelo Falcón, president of the National Institute for Latino Policy. "A year ago, it was a totally different picture. Now every time I get a goddamn invitation to a gala or fundraiser, it seems like she's being honored every evening, twice an evening."
Term-limited in four years, Ms. Mark-Viverito is set up for a possible mayoral bid and another chance to make history (the next open mayor's race will be in 2021). Ever since Michael Bloomberg crushed Fernando Ferrer in the 2005 mayoral race, the Latino political establishment has been hungering for a standard-bearer. 
Even though she is close to the mayor and has been carrying his water, legislatively, longtime observers say she can forge her own path.
"New York in general has no idea what this woman is capable of. She's a tough cookie—de Blasio will find out at some point," said Gerson Borrero, a NY 1 talking head and former El Diario La Prensa columnist. "Among the many faults she has, standing up for what she believes in isn't one of them."
 ****
Ms. Mark-Viverito was born in Puerto Rico in 1969 as Melissa Mark, the daughter of Elizabeth Viverito, a feminist activist, and Anthony Mark, a doctor. She decided to hyphenate her name as an adult.
As a teenager, she spent summers working in the office of her father, a successful ophthalmologist who treated destitute patients, visiting with them at length. 
"He would take hours with his patients and just talk politics to them. I was around that," she said in an interview with the Observer. "He was someone who gave of himself, and my mom was active as a feminist, and so the idea of women's equality, being strong-minded, strong-willed, was encouraged."
| | |
| --- | --- |
| A reputational paradox has dogged Ms. Mark-Viverito throughout her political career. To those beyond her district, she represents the hard and relentless left of the City Council. But in East Harlem, the fiery councilwoman has been repeatedly assailed as a gentrifier. | |
Like many of the more privileged residents of Puerto Rico, Ms. Mark-Viverito attended private schools. She graduated from the elite Saint John's School in San Juan, where she said she had struggled to fit in. "I was kind of a nerd," she recalled.
Ms. Mark-Viverito left Puerto Rico in 1987 to attend Columbia University. When she graduated in 1991, she launched herself into the world of Latino activism. She volunteered as an on-air personality with WBAI, the scrappy liberal station, where she strove to offer paradigm-shifting perspectives on hot-button issues like America's embargo of communist Cuba. 
"It was basically putting out the other side of what was going on in Cuba, interviewing people and artists who came from Cuba, young people," recalled Gloria Quinones, a Puerto Rican activist and close ally of Ms. Mark-Viverito. "They would be talking about the health care system in Cuba, the educational system."
While Ms. Mark-Viverito would eventually run for office in an East Harlem and Manhattan Valley-based district a decade later, she spent much of the 1990s downtown, living in the West Village with her brother.  She even mulled over a run for City Council on the Lower East Side, according to some who knew her at the time. 
Ms. Mark-Viverito, however, denied she had any interest in seeking office anywhere other than East Harlem, where she purchased a three-story townhome in 1998. 
In the years before her first bid for office in 2003, Ms. Mark-Viverito was a rising star in activist circles, where her nimble intelligence and unassailable conviction drew notice. Ms. Mark-Viverito joined the movement, ultimately successful, to drive the United States Navy from the Puerto Rican island Vieques.
Coordinating rallies at military bases in New York, Connecticut and Puerto Rico, Ms. Mark-Viverito caught the eye of Assemblyman José Rivera, a longtime Bronx kingmaker. They had met during Vieques-related demonstrations; he later took her, along with his son—also a future council member—to the bombed-out island in the late 1990s. 
"It was scary for her," Mr. Rivera recalled. "Having to get on a fishing boat, land in a restricted military base, walk practically on top of unexploded bombs, it was scary. The island looked like the surface of the moon."
Mr. Rivera recommended Ms. Mark-Viverito to Dennis Rivera (no relation), then the powerful leader of the statewide health care workers union known as 1199 SEIU, for a job. Ms. Mark-Viverito was named a strategic organizer and coordinated Vieques protests in the United States. 
By the early 2000s, Ms. Mark-Viverito had plunged into the politics of East Harlem, also known as El Barrio. Relatively wealthy and light-skinned, Ms. Mark-Viverito was not steeped in the culture of low-income second- and third-generation Puerto Ricans, Mexicans and Dominicans. She needed to bridge the cultural divide between those, like herself, who grew up on the island and those who had toiled in New York City, the so-called Nuyoricans.
Along with Ms. Quinones, she founded a group called Mujeres del Barrio. The group, dedicated to engaging local women in civic life, at once filled a need in the male-dominated Barrio while laying the groundwork for her first City Council bid. 
In 2003, Ms. Mark-Viverito challenged the incumbent, Phil Reed, a two-term councilman closely aligned with the black political establishment that dominated Harlem for decades. Mr. Rivera, the Bronx assemblyman, dispatched 25 volunteers to help Ms. Mark-Viverito, along with a few veteran operatives. 
Staffers from that race recalled that the young activist was ill-suited to the campaign trail. The elderly women of East Harlem asked her the same questions they would ask any 34-year-old woman who came to stump for their votes: how old are you? Do you have any kids? Are you married? 
"Melissa was all bent out of shape," said one prominent political consultant who worked on Ms. Mark-Viverito's ultimately disastrous bid. "She snapped at them, 'That's none of your business.' She wasn't a good candidate."
Ms. Mark-Viverito especially disliked knocking on people's doors. "It was not something a young woman from a middle class family was exposed to," Ms. Quinones said. "She was a bit uncomfortable. She felt like she was intruding on people's privacy."
She lost but ran again in 2005, after Mr. Reed was term-limited. This time, she had the backing of 1199 and barely won the open seat in a crowded field. The union, years later, would fall behind her early in the speaker's race, leaning hard on council members to vote for her. 

A reputational paradox has dogged Ms. Mark-Viverito throughout her political career. To those beyond her district, she represents the hard and relentless left of the City Council, one of the few members to proudly have herself arrested at Occupy Wall Street. 
An antagonist of Mayor Michael Bloomberg and critic of Senator Kirsten Gillibrand's immigration record, she has already irked business interests by spearheading a law that requires businesses with five or more employees to give paid sick leave to their workers. 
But that hasn't been enough to shore up her populist cred at home. The owner of several properties in Puerto Rico in addition to her East Harlem home, Ms. Mark-Viverito has been repeatedly assailed as a gentrifier, the catalyst of a real estate boom that has sent rents and property values skyrocketing uptown. 
"There's always been this resentment because she's from the island and from a well-off family," said Ed Morales, a journalist and filmmaker who released a documentary about El Barrio. "She went to Columbia. She's not from a typical working class background."
In Mr. Morales' 2008 documentary Whose Barrio, Ms. Mark-Viverito is a first-term councilwoman grappling with this dynamic. In a climactic scene, local community board members angrily challenge her at a town hall meeting just before she votes in favor of a 1.7 million-square-foot East Harlem development that was supposed to include retail space, a small hotel and 800 apartments. (The economic downturn has derailed the project.)
Some El Barrio residents saw the development as yet another beachhead of gentrification. Ms. Mark-Viverito did not agree. Jabbing a finger in the air, the councilwoman all but shouts down dissenters. 
During her first term, leftist activists swarmed outside Ms. Mark-Viverito's district office and house, railing in Spanish against the East Harlem development and gentrification in toto. Several waved black-and-white signs with her glowering face. One sign read: "Mark-Viverito: sellout."
"We are here to denounce the injustices of council member Melissa Mark-Viverito," a woman shouted through a bullhorn. "She claims to fight for more and better housing for El Barrio, but this is a lie. She wants to evict us from our homes."
Though she has won two more races since that documentary—the last one only barely—protests have dogged Ms. Mark-Viverito all along the way. "As an elected official, you always have to be ready, and you have to be available to your community to explain your decisions," Ms. Mark-Viverito said. "I never hid from my community. I always was available at forums. I took some hits, but I was always able to make the case as to why I believe in what I'm doing."
On September 10, as Mr. de Blasio soared to victory in the Democratic primary, Ms. Mark-Viverito limped to her third term. She won 35 percent of the district overall, a disastrously low number for a two-term incumbent.
**** 
A race for speaker amounts to a shadow campaign. Candidates lobby their colleagues in private, and byzantine deals are later struck among council members, Democratic organizations, labor unions and even the mayor (in the case of last year's contest) to cull the majority needed to elect someone.
Early in the mayoral race, Ms. Mark-Viverito made a decision that would cement her rise: she was the first council member to endorse Mr. de Blasio, then a fledgling and overlooked mayoral contender. 
Rivals, in particular Dan Garodnick, enjoyed tighter bonds with colleagues and the implicit tolerance of the large, outer borough Democratic machines that traditionally control the selection process. Ms. Mark-Viverito, a hard-left contender, unnerved the moderate Queens and Bronx party bosses.
But Ms. Mark-Viverito drew on her Vieques organizing experience to win. She knitted together a patchwork of allies: the labor-backed Working Families Party, the new incarnation of Acorn known as New York Communities for Change and a couple of prominent consulting and lobbying firms.
And she had Mr. de Blasio working the phones on her behalf. That alone gave her a tremendous boost, but many of those involved in the race say she simply out-hustled her counterparts, taking literally nothing for granted.
"She was extremely attentive. It was a stark contrast to the incorrect image portrayed in the press," said Councilman Corey Johnson, a freshman lawmaker from Manhattan who considered backing Mr. Garodnick. "She met with me at the panini place on the block I live on. She called me randomly one evening and asked what I was up to. It didn't feel like it was phony or in any way insincere."
Ms. Mark-Viverito knew every majordomo she needed to break bread with. Congressman Jerry Nadler, a West Side power player, got a call. So did Mark Green, the ex-public advocate, and labor leader Stuart Applebaum.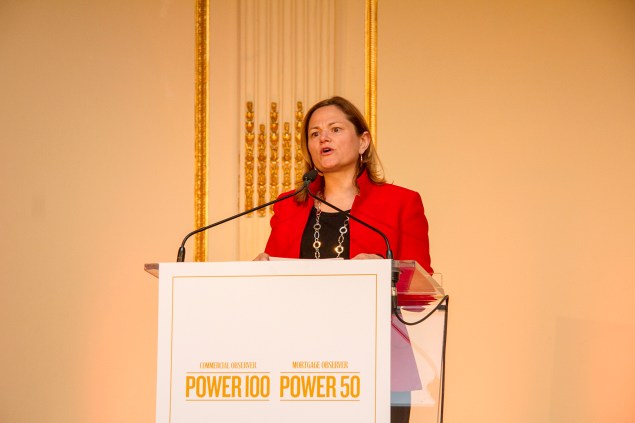 She promised and later delivered upon a Hurricane Sandy-related committee for hesitant lawmakers originally aligned with someone else. And she cut a deal to ultimately win the race by coalescing liberals and freezing out the Queens and Bronx traditionalists. 
Ms. Mark-Viverito then took the unusual step of announcing her victory weeks before the vote for speaker was to be taken. Congressman Joe Crowley, the Queens Democratic chair and Washington powerhouse backing Mr. Garodnick, compared her to George W. Bush, declaring "mission accomplished" during the early days of the Iraq War. 
In the final weeks before she was voted speaker, no newspaper endorsed Ms. Mark-Viverito. The tabloids unloaded a fusillade of hit pieces—a former East Harlem rival's claim that Ms. Mark-Viverito put a voodoo hex on her was a peculiar highlight—and the future speaker was forced to admit, after a series of scathing stories, that she failed to disclose rental income on Conflicts of Interest Board forms. 
But her bloc held firm. After Mr. Garodnick conceded, avoiding a fight that many thought could tear the body apart, Ms. Mark-Viverito won the most bitter race in a generation. Since then, she has avoided acrimony in the council, shepherding various good government-approved reforms of its internal rules and occasionally pushing back on the mayor.
She will inevitably be asked the same question as every other council speaker: will you run for mayor? Three have tried, and all have failed. 
"Nope," Ms. Mark-Viverito shot back. "I mean, look, I don't close doors, but that's not the reason I decided to run for speaker. I decided to run for speaker because I'm very clear about what my vision is for this city."
"I'm not thinking about using this as a way of positioning myself for anything else."