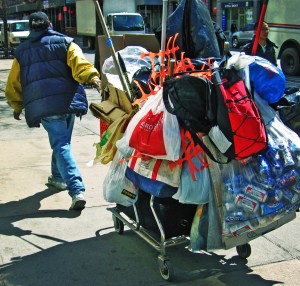 Ana Martinez de Luco was standing outside her workplace on 30th Street and 5th Avenue when a neighbor's yell pierced through the sound of clambering bottles and cans.
"Since you came to our street, you attracted a lot of homeless!" she remembered him shouting.
Ms. Martinez de Luco is all too familiar with such moments. As the executive director of Sure We Can, a nonprofit that allows the homeless and poor to exchange recyclables for cash, she's constantly battling the stigma of the canning routine.  According to Ms. Martinez de Luco, if a homeless person were to go to a grocery store, hoping to refund bottles and cans for five cents apiece, they might be lucky to get in at all. Store workers may make these less-than-desirable customers wait outside, ideally until the store is cleared out.
This is where Ms. Martinez de Luco and her team come in, to ensure that these people can participate in the canning process, without the public humiliation that often comes with it.
But as the shouting neighbor suggests, Sure We Can, despite this noble goal, has not always been well received. The organization has been forced to relocate five times in the last seven years in part because of tension with community members for the amount of homeless people its services attract. Ms. Martinez de Luco explained that her organization's decision to move from their Manhattan lot was influenced by various "complicated" factors, including the facility's proximity to the upscale and retail-oriented Fifth Avenue.
Sure We Can then took refuge in Brooklyn, even though Ms. Martinez de Luco had always envisioned Manhattan as the best place to collect and process recyclables. They've now settled in East Williamsburg, where she said community relations have remained surprisingly stable in the last four years.
But this stability was threatened last month, when Sure We Can was offered $50,000 from the lot's owner to end their lease four years early. The owner was offered $3.8 million for a nearby lot, but only on the condition that the homeless advocacy group packed up and left for good.
Ms. Martinez de Luco, however, plans to keep her team where it is for as long as she can, refusing to displace them for the sixth time, along with the canners who have come to depend on them.
"It's moving a whole community, which is a bigger issue," she explained. For her, the issue speaks to a tension between the homeless and New York as a whole. "We have been in Manhattan and I think it is very unwelcoming for this type of work."
Sure We Can's story is symptomatic of a bigger problem across New York. In the case of homeless advocacy and support, no good deed goes unpunished, or at least untested. To have even a chance at lifting the downtrodden, these groups must first work to win the trust and cooperation of the communities in which they operate—and in a place as diverse as Manhattan, this is no small task.
"There is always a pushback from people who have stereotypes about homeless people," Michael Stoops, director of community organizing at the National Coalition for the Homeless, told the Observer. "Even if you said you were going to serve three-year-old homeless kids and wouldn't let parents step onto [the site], there would still be opposition."
The Bowery Mission knows firsthand the challenge of opening a new resource center for the homeless.
When staking out a spot in Harlem for their second Women's Center, which opened yesterday, residents were less than pleased with the proposal for their new neighbor.
"When we first came into the area, I remember in the first conversations there was a little bit of tension," the Bowery Mission's Director of Operations and Community Relations Matt Krivich recalled.
"I think the initial thought was that we are a shelter, and when people hear shelter in the neighborhood," he added, "…they think it will draw a crowd of people that are just hanging around the sidewalks."
The Bowery Mission is, in fact, not a shelter, but a holistic recovery program that provides residence along with other services to the homeless to get them back on their feet. The very goal of the program is to reintegrate residents into the community, rather than set them on a circular path back to the mission.
"If [the neighborhood has] never had that type of presence before, they could easily misunderstand what we've been doing," Mr. Krivich said.
Similarly, from its curbside appearance, it is not hard to mistake Sure We Can as merely a collecting facility. But, according to Ms. Martinez de Luco, it's far more than just a place to trade cans for cash.
"One of our works is to change the image of the canner. When we started, one of the things we found [was] that picking up cans was like coming from jail, being an alcoholic, [or] mentally ill… there is a stereotype about what canning is," she said. At the East Williamsburg location, neighbors have embraced the canners. "Really people are really good with us and that brings a lot of calm to the community of canners."
Despite the strained introduction, The Bowery Mission has also found success forming productive relationships with neighbors. They attend community meetings and bring in volunteers from local businesses. "Community relations are good [at the Bowery location] and we are very intentional about it," James Winans, chief development officer at The Bowery Mission said.
They brought this same attitude to Harlem when they joined the area's block association, providing the group a forum to hear feedback from the community while communicating their own goals. Mr. Krivich and his team even threw a block party for the residents and neighbors.
The Bowery Mission's story, from auspicious beginnings to its gradual upswing, leaves room for hope that homeless advocacy groups will continue to carve out a lasting space in Manhattan. Indeed, Ms. Martinez de Luco hopes to solidify her space in East Williamsburg as the The Bowery Mission has done in Harlem, and continue to foster community among those who need it most.
"What we [would] like most is to remain where we are because it is an ideal place," she said. "I can't imagine another place."