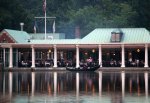 Looks like Chen Guangbiao's eagerly anticipated homeless luncheon extravaganza didn't live up to expectations.
While Mr. Guangbiao hosted 200 homeless people from the rescue mission at his Central Park lunch Wednesday, a further 100 uninvited homeless people tried, and failed, to crash. Upon seeing Mr. Guangbiao the surprise guests cursed and yelled at the Chinese billionaire, calling him a "liar" and a "con man," according to the New York Post.
The lunch gained wide publicity due to Mr. Guangbiao's promise to gift each guest with $300. However, pressure from the rescue mission—who opposed the handouts because they may fuel the homeless' drug problems—ultimately convinced Mr. Guangbiao grant the $300 per person to the organization.
"I'm very unhappy. They said we'd get $300 apiece and now they're donating it to the mission? We were dropped here. They used us like puppets so they could get their check," Harry Brooks, a New York City Rescue Mission resident, told the Post.
The eccentric Mr. Guangbiao seemed oblivious however. "I am giving you a fishing pole and hopefully you will fish on your own. We need to be diligent and work hard because we need to be self-reliant," he told the let down crowd.
Mr. Guangbiao then proceeded to perform an array of magic tricks, before belting out a rendition of "We Are The World."
Volunteers served the homeless patrons a lavish meal decked out in People's Liberation Army uniform. Following the lunch, Mr. Guangbiao introduced two friends to the crowd: self-immolation victims, a mother and daughter, who are part of the controversial Chinese Falun Gong sect. They told the homeless that they were "witnessing a profound moment of kindness."
Could've been worse.