This summer, we can divide ourselves into two camps: the Koons people and those who do not care for Koons. I'm not a Koons person. Walking through his retrospective at the Whitney, which spans four decades of his career in New York and occupies the entire museum, the work did not raise my pulse. The show is handsomely curated, to be sure. The lower floor is thick with the early appropriation and readymade works. One level up are Mr. Koons' mid-career sculptures, while the top floor is a vast temple of gigantic kitsch toys and gleaming sculpture. This stuff is, you may have heard, expensive. Yet I walked through the vast monographic show without getting that tug of acquisitiveness that sometimes plucks me in front of, say, a Goya, or a Schwitters.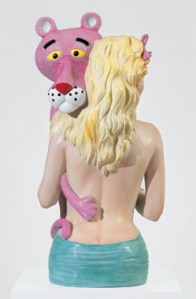 Mr. Koons produces bad paintings. But he is a serious sculptor. (He is also a decent if limited photographer with a flair for a particular kind of performative project.) On the first floor his Readymades, ranged like consumer goods on display, sit in glowing Plexi cases; the gallery feels like a mall. They consist mostly of vacuum cleaners, but there are also basketballs floating in vitrines. The sculptures were shown in Lower East Side galleries in the 1980s, and they conjure aspirational materialism. Ads from 1980s magazines (Bacardi, Fra Angelico) are blown up in billboards on the wall. It's the American Dream as found object. You may quietly reflect on how much the art world—and the city itself—has changed since these works went on display. But such thoughts are yours alone: there is no critique here. This is appropriation-as-homage. In a side room there are some sweet inflatable flowers magnified by modest mirrors. The whole floor is beautifully lit.
Where the first floor gives us the side of Mr. Koons' work that is rarely seen, the second has his most iconic pieces. The 1988 "Banality" series is the standout here: The Pink Panther slung over the shoulder of a voluptuous blonde, a couple sitting with a lapful of blue puppies. Essentially large Hummel figurines, these works are glazed-porcelain pure-grade kitsch. You can walk behind them and admire, should you care to, the gilt flowers beneath the golden sole of Michael Jackson's left loafer. Mr. Koons' notorious collaborations with his former wife, Cicciolina, come next ("please be advised: The next gallery contains works that are sexually explicit. Parents should use discretion"). Immediately following those are oversized colorful nursery mirrors and children's toys, shiny baubles for viewer self-contemplation that make up a fairly good series called "EasyFun." The work dives steeply into narcissism, and as such anticipates the oversharing selfie culture we currently inhabit. But there's something jarringly un-self-aware about them—a disjuncture between high ability and low reason, relentless self-disclosure and nonexistent social commentary.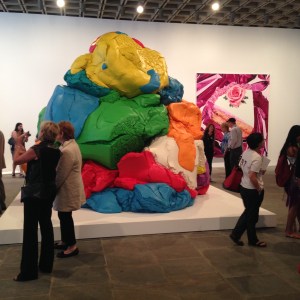 The top floor is Koons the megastar. There is a fabulous aluminum sculpture that looks convincingly like a giant lump of Play Doh—the colors and crumbly feel of each slab is just right. Some monochromatic sculptures are marvels—in Popeye, 2009-12, each pucker and seam of the figure's balloon shape is coaxed from granite. The works plumb the cavernous depths of the American distrust of fine art: they turn to the technical, crafty, and biographical over any conceptual apparatus. They earned fame not by garnering critical praise, but by functioning almost exactly like money in a world with an increasingly dramatic and unjust distribution of wealth and limited places to park excess currency.
New York is home to plenty of people who worship success and are willfully blind to other values. This is a show for them. There is a question of how expensive and financially tricky this exhibition was to put together: Should art be this complicit with capitalism? Probably not.
If, like me, you are drawn to the obscure, the resistant, the under-appreciated, the archival, the intellectual, the surly and the difficult, there are other great shows in this town I would recommend you go see instead. (James Lee Byars at MoMA PS1 and Michael Werner gallery, Lygia Clark at MoMA and Garry Winogrand at the Met, for starters.)
But if Mr. Koons wasn't occupying the role of our most ostentatiously successful mainstream living artist, someone else certainly would. Perhaps a fairer standard by which to evaluate this work is to ask: how well does Mr. Koons occupy the socio-economic space we call Jeff Koons? At the press preview, something happened that I had never seen before in a museum. The press, normally aloof, formed a tight knot around the artist. Mr. Koons, 59, posed tirelessly for photos with grinning critics, and autographed press packets with a Sharpie. I moved in and, close to the man himself, found myself part of an avid crowd.The moment passed quickly. I didn't get an autograph, or a selfie. But I did get it. Leaving the show, I was giddy and flushed, full of unfulfilled desire and ill at ease with my own feelings. While art can, and should, be so much more, the feeling of having been sold desire—and the sense that your moral and intellectual outrage is beside the point in that transaction— is about as good as it gets with Jeff Koons.