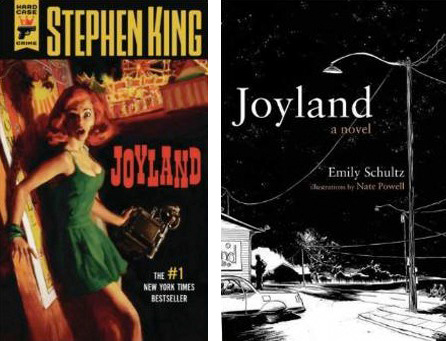 There are at least two novels called Joyland. One, by novelist Emily Schultz, was published in 2005 by a small Canadian-based press. Another, by Stephen King, was published last year. Mr. King's wasn't available as an e-book at first, so, in one of the more lucrative literary mix-ups in recent memory, Amazon customers—many, many of them—mistakenly bought Ms. Schultz's book instead.
Negative reviews ensued. "Not up to Steven King [sic] standards," wrote one confused reader. "Boring and boring. No suspense. The characters were interesting, but not exciting. Did not like the ending."
That was bad news for the lesser-known writer, but, thanks to an unexpected windfall from the mix-up, Ms. Schultz, who is 40, this week received a handsome royalty check for the accidental purchases.
"Apparently there were a lot of confused readers," she wrote on her new blog, appropriately titled "Spending the Stephen King Money," which documents the purchases she's making with the cash.
So far, Ms. Schultz, who lives in Brooklyn, has spent about $432, which went toward a haircut for her husband, author Brian Joseph Davis; St. Vincent's new, self-titled album; a car bumper repair; Patricia Lockwood's Motherland, Fatherland, Homelandsexuals as well as The Friedkin Connection, by William Friedkin; and a "fancy dinner" at Junoon, an upscale Indian restaurant in the Flatiron District.
Accompanying each purchase is the question "Would Stephen King like it?" Of the automobile repair, for example, Ms. Schultz wrote: "Cars, mysterious garbagemen, feelings of vengeance—of course he would!"
So, how much did Ms. Schultz make?
"The blog is going to reveal that at the end," she told the Observer in an email. "It's not a fortune but it is nice surprise money."
One big purchase she's planning, though, points to the size of the royalty. "I tend to go through one laptop per novel while writing," she said. "My E key is always falling off. So a new laptop is going to be the big one."
Ms. Schultz said she isn't familiar with any other writers who have experienced the strange phenomenon—an "Amazon glitch," she called it—which led to the check.
"I'm pretty sure this hasn't happened to anyone else until now," she wrote, "because it involves a lot of strange variables: a small press book, a book from one of the biggest authors in the world, e-books, Amazon's practices."
She doesn't plan to repeat the process, at least not on purpose. "Both King and I stole the title," she said. "Mine was from a chain of arcades in the 1980s. His was from a chain of amusement parks in the 1970s. As for actively gaming a title I think any writer might think about it for a second, and you could certainly get postmodern about it, but if you take your writing seriously you probably shouldn't do it."
"I haven't talked to Joyce Carol Oates yet about the possible confusion with her novel Blonde," added Ms. Schultz, whose latest book, The Blondes, which was published internationally in 2012 and will be released in the United States next year, is her most successful yet, "but I'm sure it might get mentioned now."
And she hasn't met Mr. King, despite that the fate of Joyland, her first novel, has been so thoroughly entwined with his book.
"I haven't read his work since being a teenager," she said, "but—I've said this before—he still doesn't get his due from critics and I'm sure all writers, lit or otherwise, harbor a love for Misery."