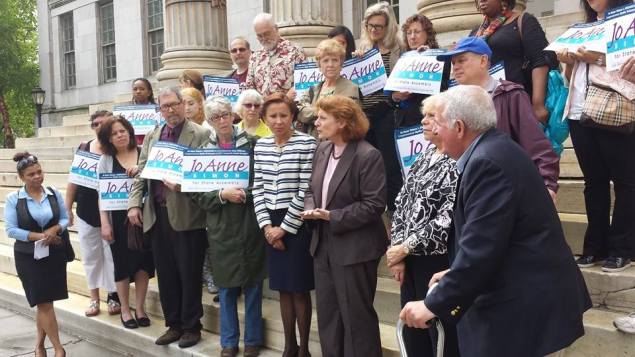 A host of big-name local pols may be endorsing Pete Sikora's bid to replace retiring Assemblywoman Joan Millman, but the area's congresswoman is not following suit.
Congresswoman Nydia Velázquez, who represents the brownstone Brooklyn turf that Mr. Sikora and district leader Jo Anne Simon are fighting for, will appear at a fund-raiser for Ms. Simon tonight.
The fund-raiser will be from 6 to 8 p.m. at the Cobble Hill restaurant Marco Polo, a popular spot for political events in the district. Ms. Millman, along with State Senator Velmanette Montgomery, will speak at the affair.
"Nydia is extremely important. She has high credibility and a long, long history standing up for people and the right issues, being independent and extremely effective," Ms. Simon told the Observer. "Having her support is extremely meaningful."
Ms. Velázquez did not immediately return request for comment, but sources close to the race for the overwhelmingly Democratic and liberal district see a divide between elected officials close to the Working Families Party, which has endorsed Mr. Sikora, and others that owe less to the labor-backed party. Councilmen Brad Lander and Steve Levin, along with State Senator Daniel Sqadron, will attend a campaign kickoff event for Mr. Sikora tomorrow.
Ms. Simon said Mr. Lander, a progressive power broker in the City Council, backed Mr. Sikora because because the WFP endorsed Mr. Sikora, a member of the Communication Workers for America, first.
"I talked to Brad last week, finally, about why he wasn't supporting me. He said it was because of the Working Families Party and he had known [Sikora] for years through the WFP," she said. (A spokesman for Mr. Lander confirmed the Sikora endorsement).
Ms. Velázquez, however, has been aligned with Ms. Simon in many local political battles. Both pols aggressively opposed the old Brooklyn Democratic Party boss, ex-Assemblyman Vito Lopez, and supported insurgent candidates together. Ms. Simon, long active in Brooklyn Democratic circles, is also Ms. Millman's chosen successor.