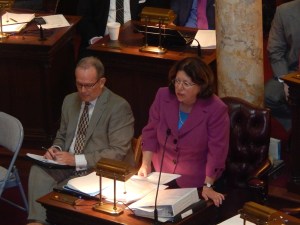 TRENTON – In a set-piece struggling hard to rival USA v Germany, Republicans and Democrats kicked around the state budget this afternoon, with the GOP arguing the fiscal necessity of keeping wealthiest New Jerseyans in the state and Democrats making the case for nicking the rich to help everyone else.
"We have to create jobs here," said state Sen. Kevin O'Toole (R-40). "We all want to be here. The question is can we afford it.
"I ask that we not support his budget," the Republican exclaimed, decrying the millionaire's and corporate tax hikes in the Democrats' $34.1 billion budget.
State Sen. Paul Sarlo (D-36) took ownership of the document that Gov. Chris Christie is expected to red line as soon as the majority Democratic Party (24-16 edge in the senate) releases its budget out of the Senate and Assembly.
"Today we present a balanced budget, a budget that took us some time to put together, with many alternatives shared with the administration," said Sarlo.
State Sen. Anthony Bucco (R-25) rose as the most senior Republican member of the Senate Budget Committee.
"I wish the budget we're voting on today went in a different direction," said Bucco, excoriating Democrats for presenting $1.7 billion "in job-killing taxes."
In a variation on John Kerry's "And how do you ask a man to be the last man to die in Vietnam, Bucco implored his colleagues, "What happens when there are no more millionaires here to tax?"
O'Toole then took a crack at his own critique.
He served as chief Christie apologist on the governor's decision to carve monies out of the pension system to plug a budget gap as opposed to the Democrats' targeted tax hikes.
"We made the third largest payment to state pension system in Fiscal Budget 2013," said O'Toole, by way of some history.
"If revenues go up," he added, "anything above and beyond, we should put that in a lockbox and earmark it for pension payments."
Another budget committee member, state Sen. Steve Oroho (R-24) reinforced the arguments of his GOP colleagues.
"Our cost of doing business – regulatory as well as taxes and fees – is way too high," said the Sussex Republican, adamantly opposed to new taxes. "We're chasing our taxable income across the river and down south."
Democrats have repeatedly made the case throughout this budget process that failing to fund the pension system now will simply result in a greater financial burden later.
They didn't say much at the outset.
State Sen. Ray Lesniak (D-20) stood up at one point and provided the score to the World Cup game, which at that break in the action, stood at zero/zero.
But then state Sen. Linda Greenstein (D-14), who occupies a public worker-dominant legislative district, denounced the Christie administration's budget priorities.
"The public workers kept up their end of the bargain, and just three years of absorbing steep increases, this administration says 'never mind, we're not going to uphold our end of the bargain,'" said the senator, a member of the budget committee who reluctantly supports the millionaires' and corporate tax hikes to help close the budget gap.
Greenstein argued that Christie's pro-business measures have not created jobs to date and stood by the Democrats' budget as a "morally sound" alternative.