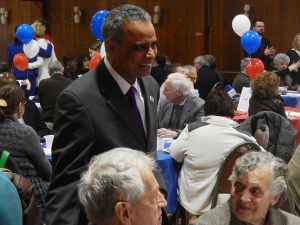 State Sen. Linda Greenstein (D-14) isn't the only person in the CD12 Democratic Primary annoyed by Assemblyman Upendra Chivukula (D-17).
Count Assemblywoman Bonnie Watson Coleman (D-15) as a member of that club mildly tormented by the third wheel candidate.
It happened this morning at the First Baptist Church of Lincoln Gardens in Franklin Twp., where the Rev. Buster Soaries serves as pastor.
Watson Coleman appeared in the front row, soaking up the Sunday grandeur of the full-service Soaries church experience.
But another candidate was in the room, playing defense in his home town.
It was Chivukula, who had already just done this a day earlier.
Rather than an endorsement from the pulpit, Watson Coleman received a two-pronged Soaries shout-out that included her Somerset "rival" in the only CD12 county where Chivukula has the Democratic Party line.
At least one Chivukula ally greeted the candidate after the event with the cellphone equivalent of a high five, acknowledging later in a conversation with PolitickerNJ that the assemblyman could play havoc not only with Greenstein (he wants votes in Middlesex, Greenstein's base), but in Somerset.
In possession of the lines in Mercer and Union counties, Watson Coleman wants to rake some votes out of the super church on Chivukula's turf. The fact that he showed up this morning and muddied the narrative somewhat diminished what might have been a full-blown Watson Coleman/Soaries moment two days ahead of the election.
But a source told PolitickerNJ that even though he didn't blow the trumpet from the pulpit for her this morning, Soaries quietly "backs Bonnie."