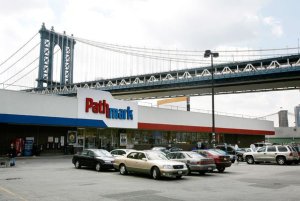 After being beset by national retailers, Williamsburg and Greenpoint are now being flooded by chain gyms, DNAinfo reports. New York Sports Club, Planet Fitness and Crunch are all coming to the area. Hey, residents need someplace to burn off all the calories from all that craft beer!
And who doesn't love Brooklyn? Though Eric Adams may love it most of all: the new-ish Brooklyn Borough president stays on-target—i.e. vague and boosterish—during an interview with Crain's. On his largely ceremonial role: "the real skill is what you do with the power you have. I think I have a menu I can do a lot with." Of gentrification he says, "I think gentrification receives a bum rap."
We're not even all that surprised that Business Insider is trying to call the trend of Bay Ridge being the next hip neighborhood. This is, apparently, destined to happen not only with every single neighborhood in the borough, but with every single neighborhood that touches the borough, a la Quooklyn. Of course, a slideshow and a photo of two potential hipsters does not a hot neighborhood make.
Why hasn't Bill de Blasio named a new DOB commissioner yet? Capital NY asks. It's been nearly six months and while the agency is staffed with a competent team, it's getting to the point where leadership on larger issues is very much needed, particularly as the agency is expected to play a key part in the mayor's affordable housing plan.
Maybe it's because he's been so busy moving into Gracie Mansion. The New York Post brags that the mayor and Chirlane dished on what it's like to live there, but mostly they just say that they haven't managed to finish moving in yet and that they're both sick and/or tired. Via Chirlane: "So much happening, we don't get enough rest. At least I'm not."
We have a new contender for the most ridiculous trophy listing: a three condo combo at the Residences at the Ritz-Carlton is asking $118.5 million, The Wall Street Journal reports. You read that correctly: the Residences at the Ritz-Carlton in Battery Park City, not the Ritz Carlton on Central Park South, where a reasonable person might at least be deluded into thinking they could get that much for a 15,434-foot spread. Worst of all, the units aren't even combined yet. CitySpire's penthouse must be relieved that it is no longer the biggest laughingstock in the city.
And while we're on the subject of income inequality: Extell has a new poor door controversy. The developer is planning to build separate market rate and affordable housing towers on the former site of the Lower East Side Pathmark, Curbed reports, arguing that securing financing for a mixed-income building would be impossible and that "we don't live in a perfect world."
The New York Times spends a lot of time worrying whether or not backyard play areas turn off buyers and for all that reaches a wishy-washy mostly-no-but-sometimes-yes conclusion. But if you're the kind of person who would worry about a play structure in the back yard will drive buyers away, it's almost certain that your play structure is not of the mass-produced, crammed into a tiny space, garishly-colored variety that might freak some people out.
Not even a day at the beach is all fun and games: Gothamist reveals that the unsightly piping running through the Rockaways is not, as you may have suspected, something having to do with post-Sandy beach reconstruction. It's actually a fracked gas pipeline! Known as the Rockaway Lateral Project, the pipeline will bring 647,000 dekatherms per day out of the nearby ocean floor, a project for which passed shortly after Hurricane Sandy, when locals were too gobsmacked to do anything about it.
Last of all, Thor Equities has teamed with RXR and Chicago-based General Growth Properties Inc. to buy 530 Fifth Avenue for $595 million, Bloomberg reports. The sellers, a consortium that includes Jamestown and Rockwood, bought the building in January 2012 for $390 million.