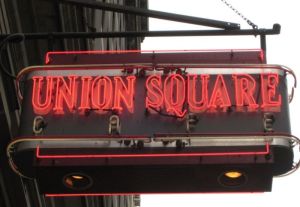 Like every other "it" neighborhood since time immemorial, Bushwick is now fighting against an influx of liquor license applications, DNAinfo reports. Says the district manager, "We're inundated with many, many more than this community needs," which misses the point that development, retail and restaurants in New York seldom target what the existing community needs. In this case, the existing community also appears to be quite prudish: "People are having real concerns about that kind of activity going on at night … seven days a week, oftentimes beyond midnight," she added.
So much for New York, it was nice knowing you: Danny Meyer's Union Square Cafe has been priced out, The New York Times reports. The restaurant has been a fixture on East 16th since 1987 and its departure raises the question of what hope any restaurant in the city has when perhaps its most successful restaurateur running perhaps its most successful restaurant gets pushed out. Though the landlord seems like he may just have wanted a different tenant, telling The Times "It's better for them as a restaurant business if they go elsewhere, and it's better for us as a real estate business if they go elsewhere. There are landlords out there willing to do back flips to get a Danny Meyer restaurant."
The blogger behind Bk to the Fullest is hoping to make bank with secret listings, according to Brick Underground. Working as a consultant, buyers would pay $200 up front followed by $50 a month for access to "secret" brownstone listings not yet on the open market whose owners don't want to list their properties via the traditional route—they're just toying with the idea of selling or don't want to use a broker.
The fate of the Rockaway ferry remains uncertain beyond October, Capital NY reports, with no indication in the mayor's budget as to whether the city will continue to fund the service. However, given that the city just revised its annual cost estimate for the ferry from $5 million to $10 million, things don't look particularly promising.
False advertising? Brooklyn Properties' Park Slope office featured several great deals in the window yesterday, including a five-bedroom with a pool for $949,000. But DNAinfo reports that it was all for a film shoot and included a disclaimer. It's unclear why the film, called "The Intern," needs to downplay the strength of the Brooklyn real estate market. Is it too shocking for middle Americans?