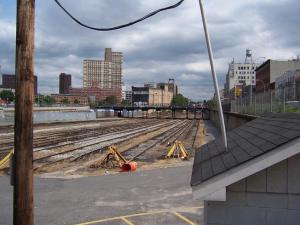 Forest City Ratner has promised to speed up the glacial pace of construction at Atlantic Yards, The New York Times reports. The completion date for the entire development, which at one time Forest City pledged would be entirely finished by 2016, has more recently sprawled to 2035. Now Forest City says it will be finished by 2025. Which, depending on how you look at it, is either 9 years late or 10 years early. The project will be getting a big cash infusion to help it along, both from the Chinese developer who is now the majority stakeholder and from the city: Deputy Mayor Alicia Glen has agreed to give Forest City Ratner a cash subsidy of  $11.75 million for each of the affordable housing towers.
Citi Bike has prevailed in yet another lawsuit that was filed against it, Capital New York reports, this one over the siting of a docking station in Greenwich Village. The co-op looking out onto the rack claimed it caused garbage to pile up and impeded traffic. Not so, a court found and threw out the lawsuit, as it has every other lawsuit against Citi BIke thus far.
In other transit news, the Rockaway Ferry will not be getting any funding subsidy in this year's budget, Queens Brownstoner reports. Which doesn't mean that it can't or won't run past this October, but just that, much like Citi Bike, users will have to pay full cost. Ferries, unfortunately, happen to be a lot more expensive to operate per ride than bike share systems.
Atlantic Cities explores the how behind super skinny, super tall towers. As for the reason why we can't build them everywhere, that should be obvious. It's not a question of ability, it's a question of economics and in most places such structures don't make financial sense.
You know when supermodels give interviews about how ugly they felt when they were kids and you no one believes them? Well, Soho, the supermodel equivalent of neighborhoods and a place seemingly possessed of excessive beauty, wants to spend $27 million on a plan to beautify Soho Square, Crain's reports. The park will serve as a "gateway to the newly revitalized Spring Street."
The Bushwick Daily pays a visit to the "neighborhood's most controversial new building"—and it's not the polyamorous house!—but Colony 1209, so anointed for website descriptions like this like this: "Here you'll find a group of like-minded settlers, mixing the customs of their original homeland with those of one of NYC's most historic neighborhoods to create art, community, and a new lifestyle. Let's Homestead, Bushwick-style." They find a giant chess board, a screening room and a common seating area that the developer has for some reason dubbed a "speakeasy." Also, that you'll pay about $600 more per month than you would to live in one of the neighborhood's older buildings, or roughly $2,200 for a one-bedroom.

Yep, there goes the neighborhood. Three Lower East Side businesses and one non-profit have been ordered to clear out of the first Seward Park site slated to become Essex Crossing, the Lo-Down reports. Among those which will be vacating is Olympic Restaurant, which has been in business for 35 years; a small number of residents who lived on the upper floors of buildings are also being displaced. Everything dies, baby, that's a fact.
But… maybe everything that does someday comes back. Like long-time West Village watering hole Chumley's, which has struggled, in the face of strong community opposition, to re-open following a 2007 facade collapse. But the New York Post reports that a judge has strongly suggested NIMBYs drop their lawsuit against the bar because they can't win.