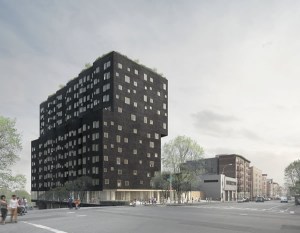 The Sugar Hill affordable housing complex finally opened yesterday, after a long and complicated lead-up involving the collaboration of numerous agencies. The building itself, however, despite being designed by acclaimed architect David Adjaye, badly misses the mark, according to New York Magazine's Justin Davidson. While the interiors bear the mark of the unexpected and the lovely, the exterior looms above the neighborhood like a medieval fortress, gloomy and strange given that the building is a home. "It's a hard to fathom why Adjaye would evoke a hilltop citadel, or clad it in storm-cloud-colored concrete so that even on a perfect June day it glowers forbiddingly against the sky — after all, the building's intentions are exactly opposite," Mr. Davidson writes.
Meanwhile, developers are flocking to the affordable housing market, hoping to pick up some of the money that Mayor de Blasio will be tossing out for its construction, according to Crain's. Given the city-backed financing and, often, government-guaranteed rents, it's a safe and easy bet for a developer. The city, however, may want to go with a tried and true affordable housing developers rather than unproven newbies chasing the market.
This art collaboration seems suspiciously like property maintenance to us: an artist has planted a small field of clover—or rather, conceptualized the planting of clover, which was actually planted by the Brooklyn Grange—to clear out rats in an area of Brooklyn Bridge Park that is slated to become condos, according to DNAinfo. The soil, once improved by the clover, will be used elsewhere in the park and the developer will get a rat-free lot. Also, there may be goats, but the goats are not confirmed.
So much flipping we think we might be sick: a Bed-Stuy townhouse at 196 Hancock Street sold for more than twice as much, sans renovation, in a matter of months, Brick Underground reports. The seller bought the home for $1.2 million, listing it for $1.85 million three days later and was rewarded for brazen profiteering when it sold for $2.1 million. Now, it's apparently possible that the estate of the previous owner got screwed in the first sale, but this will no doubt encourage more wanton flipping attempts in the neighborhood.
Also disturbing: the Berserk Eclectic house in Prospect Lefferts Gardens is now entirely demolished, Brownstoner reports. An eight-story rental building will rise in its place.
And finally, DNAinfo reports that chain stores are flocking to the retail district around Barclays, which will enhance the many chain store offerings available at the Atlantic Center.