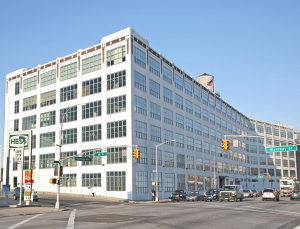 The Wall Street Journal details how the city's newly-enacted transparency laws, which required members of the Rent Guidelines Board to submit their proposals in advance for the first time ever, played into the bizarre one-percent increase. Essentially, the proposals gave landlord representatives time to calculate how far they could go in blocking a rent freeze, even if backing a one-percent increase didn't make landlords very happy: Magda Cruz, a lawyer and one of the board's landlord representatives, told The Journal that the small increase was "desperate attempt to avoid a rent freeze."
I can tell you how to get to Sesame Street, but can you afford to buy there? For most New Yorkers, the answer is not probably not, especially now that the Long Island City factory that once housed the Jim Henson puppet studio just sold for $110 million. RXR Realty is the new owner of the Standard Motors Building, Crain's reports; at this point it is unknown if the purchase also came with a beat-up, old-style garbage can out front inhabited by a crabby green monster.
Oftentimes, artists organically play a role in transforming working-class and industrial neighborhoods into wealthy residential enclaves, but sometimes developers seek them out, a process that Atlantic Cities dubs "artwashing" and which is mostly unhelpful to both artist and former residents. As described: "The process through which she entered and was later expelled from the building was essentially a cleansing process in which the artists moving into a burgeoning area were treated by developers as a form of regenerative detergent."
Speaking of formerly industrial artist enclaves turned posh enclaves, Williamsburg's first Starbucks will open this summer, DNAinfo reports. It will join Williamsburg's Dunkin Donuts as a symbol of corporate greed/neighborhood change/proof that all the cool kids have moved to Greenpoint or Bushwick.
Really, you might as well buy in Downtown Brooklyn, even if the neighborhood is best-known for its plethora of transit options to neighborhoods you actually want to be in. Lots of other people are already doing it! Crain's reports that 388 Bridge Street, which has the exciting distinction of being the tallest tower in Brooklyn (for now) is bragging about how after just 16 days on the market, 40 percent of its 104 condo units are in contract. The building also 234 rental units.
Thank god! Brick Underground informs us that despite a lot of big talk, community boards can't actually ban bars, as the community board that encompasses Bushwick has vowed to do. The State Liquor Authority is the one that's ultimately responsible for issuing licenses and mostly they seem not to care very much about community input.