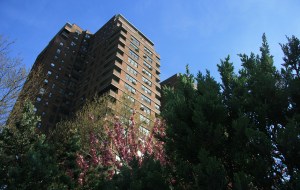 Now that SUNY is at the precipice of yet another deal with Fortis, Crain's critiques the long, pointless LICH saga, from SUNY's initial takeover of a "superfluous" hospital to delays occasioned by community agitation for a full-service facility: "People like having a hospital nearby. Blinded by emotions, they ignored that their hospital was outdated, superfluous and uneconomical, and that "saving" it undermined wiser efforts to make health care delivery in Brooklyn sustainable."
Mayor Bill de Blasio may be backing away from his previous pleas for a rent freeze, but rent-stabilized tenants are still calling for a zero percent increase, The New York Daily News reports. Will tenants get their first-ever rent freeze? We'll know tonight, when the Rent Guidelines Board makes its decision.
A guy who built an 18,000 square foot modernist home with an infinity pool in a remote area of Costa Rica told The Wall Street Journal that he built the home off-the-grid as a way of "discouraging development int he rustic region," "I didn't want to be the guy who messed it up with power." Sharing paradise, very declasse.
A developer appears to be planning a condo in a place that is the exact opposite of remote: right next to the entrance of Holland Tunnel. Curbed reports that an LLC recently paid $12.32 million for 572 Broome Street (which even given the site seems kind of low?), banking on the fact that in the current real estate market, the constant hum of traffic will be little deterrent for house hunters.
Everything you ever wanted to know about Seward Park Co-operative and then some: The New York Times publishes a sprawling tribute to the co-op and the Lower East Side from a resident of recent vintage who was delighted to find a diverse Manhattan neighborhood where she could afford to buy (L.E.S. real estate tip of the week: sitting shiva is better than hiring a broker).
On a related note, The Real Deal offers up a few things you might have wanted to know about Related's Stephen Ross: he didn't get into the University of Michigan on the first go-around, he met his current wife on a blind date and he sometimes goes two or three days without leaving the Time Warner Center.
Spiritual enlightenment is great and all, but there's a great deal to be said for the charms of financial enrichment. At least, what else is one to think given the multi-million victory lap taken by Deepak Choprea, who recently sold his Midtown aerie for $3.5 million, according to Curbed? The new age guru bought the place for $1.75 million back in 2003, though like so many challenges, this one did not come easy: the apartment went on the market a full two years ago.
Despite the fact that housing discrimination is illegal, LBGT renters and buyers still face difficulties in the marketplace. The New York Times profiles broker Tama Robertson, herself a lesbian, who specializes in working with other couples looking for friendly accommodations.
The Nordic food craze will be making its next way to Grand Central, with Danish restaurateur Claus Meyer having been selected by the MTA to operate the restaurant in Vanderbilt Hall, according to Crain's. And, as with most things in Grand Central, this too, will no doubt feel passe by the time it opens in 2016, at which point the city will have of course moved onto some other culinary obsession.