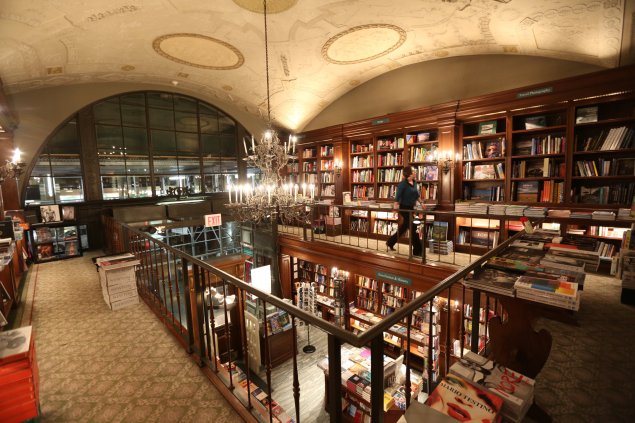 The city has signed off on a $3 million streetscape improvement for the BAM cultural district, Crain's reports. "The goal is to create a real sense of place," bragged Leslie Schultz, president of BRIC. But the real question is whether,  based on the rendering, the new streetscape is any improvement.
While we're on the subject of dubious "improvements": Rizzoli demolition is underway. A Curbed tipster happened to be walking by the former bookstore and documented the destruction that has been visited upon the once beautiful space. But don't fret, we're sure that there will soon be a handful of ultra high-end luxury condos!
Speaking of change coming to iconic institutions: Ed Scheetz, the hotelier who owns the Chelsea Hotel, is buying its beloved Spanish restaurant El Quijote, Eater reports. The company claims that the new proprietor will "retain the signature look and feel of El Quijote" and that the staff and the food will remain the same. But will a new proprietor really have the chutzpah to maintain the weird loveliness that is El Quijote? Its forgettable garlicky seafood, pitchers of maraschino-laden champagne sangria, magnificently cheesy soundtrack, waiters in weird pseudo formal wear and powdery mints in a tray by the door? (Yes, please, yes.)
Meanwhile, yet another downside to living in New York: a dermatologist claims that the city will prematurely age its residents, according to the New York Daily News, with its long commutes and pollutants. (To say nothing of our drinking habits and tourist rage.) Perhaps this will be what—rather than threats of a shift to the city's tax policy—finally drives away the global elite?
While we're on the topic of gilded things: who knew that the gilded had to be routinely re-gilded? Central Park's William Tecumseh statue has required re-gilding to the tune of $500,000, The New York Times reports. Perhaps Olmsted had a point when he said that the park should accept no gifts of statuary?
A tangle of red tape, good intentions and mismanagement have delayed the distribution of millions of dollars worth of Sandy Aid, The Wall Street Journal reports. Reluctant to dispense with red tape in the wake of Katrina fraud, the federal government has been slow to distribute recovery aid, a process that has been made even slower by the morass of local and state requirements.
At least there's one good change afoot: as a result of the East Harlem explosion, the Fire Department will respond to all complaints of gas odors, The New York Times reports, a gripe that has, until now, been handled by the utility companies at an often quite leisurely pace.
And last of all, The New York Times remembers the forgotten borough and profiles St. George in its "living there" column. Upsides: comparatively cheap rent, free ferry service and Victorian architecture. Downsides: Staten Island.