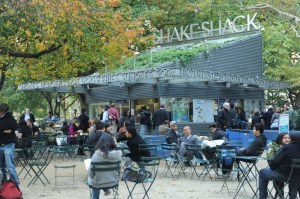 "Why would anyone wait in line for six hours just for a burger, as tasty and special as that burger might be? Do they want to be part of something, a shared experience? 'I don't care about being part of something," said the young woman, "I just want that burger!'"—Jeremiah Moss on the sad sadness that was the 10th anniversary of Shake Shack.
Two Trees is attempting to cement Dumbo's reputation as a mecca for artists by formalizing the process whereby artists can apply for reduced-rate rents, according to Crain's. Arts and cultural tenants can apply for three-year leases in the roughly 50,000 square feet set aside by the developer for that purpose. Discounts may reduce rent down to $12 per square foot, or 70 percent below the now very high—in part thanks to artists—market-rate rents for the neighborhood.
The $30 million assessment for a mandatory facade fix at 2 Fifth Avenue, a co-op in the Village, caused unheard of panic, according to The New York Times, given that the cost to repair the extraordinarily-damaged glazed white brick was some three times what such work usually costs. The upheaval was such that in the course of the first and second assessments all the co-op board members changed.
Speaking of money pits: the Long Island mansion that starred alongside Tom Hanks and Shelley Long in the 1986 comedy of the same name, is hitting the market for $12.6 million, according to The New York Times. It has, according to The Times, been "totally redone, meticulously designed and decorated with a Versace-esque flair." So, while the buyer need need throw one's money into a giant hole in the floor, it appears that the house might require some cash to update its aesthetic.
The Wall Street Journal details how one retail broker persuaded Coca-Cola to lease a prime space on Fifth Avenue that had spent three years sitting empty. Hint: the $400 million deal with Ralph Lauren came only after the broker convinced a board member who wanted a Coca-Cola museum that the space might be better used.
Dynasties—sometimes they work, sometimes they don't. At a Big Brothers and Big Sisters fundraiser honoring Jody Durst, Alexa Ray Joel gave a truly dismal performance, according to The Real Deal, evoking both the chipmunks and a poor man's Liza Minelli.
Chelsea only has space for artisanal flea markets these days: Crain's reports that the Antiques Garage, which has operated on a parking lot on W. 25th between Sixth and Seventh since 1993, is being shuttered to make way for a hotel tower to be built by John Lam.
A new website, Opportunity Space, is aiming to connect developers with investment opportunities, according to Atlantic Cities, making it easier for projects in less well-known cities are neighborhoods to get off the ground. Theoretically, at least.