[youtube https://www.youtube.com/watch?v=nHujh3yA3BE]
Artwork inspired by digital communication often feels intrinsically cold and inhuman, but it's not often that a digital art installation manages to impart both void-like isolation, and a creeping sense of being watched. Recording artist Holly Herndon's latest collaboration with artists Adam Harvey and Simone Niquille, on display digitally with the New Museum, does just that.
Ms. Herndon's work is available online this month as part of New Museum's "First Look: New Art Online," a series of digital art pieces curated by Lauren Cornell. The piece is inspired partly by NSA surveillance, and partly by people's online surveillance of each other.
"A lot of our activity online is based on spying on other people," Ms. Herndon said to Betabeat via Skype from Berlin, where she's recording and performing for the summer. "If you have a date with someone, most people will admit to Googling them, learning about them."
The project has two components: the music video for Herndon's single "Chorus" and an online interactive art experience called "Sonic Chatroulette." The video was created first, and can be seen independently of the interactive, and each part of the project can stand on its own.
Ms. Herndon herself is the subject of the music video. She appears live at first, but is then shown as a 3D model on the laptop screens of other digitally rendered workspaces. By watching the video, we are watching Ms. Herndon being watched — spying on spying, as it were.
"A lot of 'Chorus' is about how intimate the laptop is as an instrument," Ms. Herndon. "What does it mean to be intimate with something that's also public."
For the video, Ms. Herndon teamed up with Japanese artist Akihiko Taniguchi. Mr. Taniguchi created the 3D renderings from panoramic photos of the workspaces of his friends and collaborators. The panoramics were processed to create 3D renderings of those spaces that can be manipulated, turned and explored.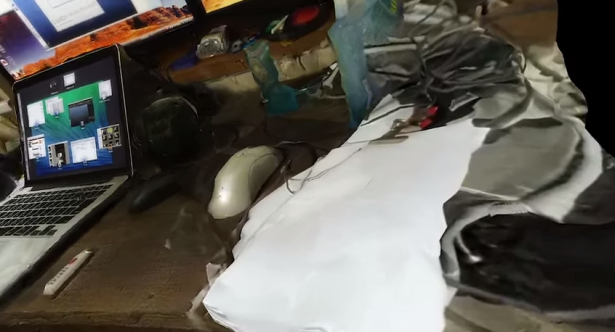 The rendering process gives the spaces a dilapidated, congealed look. Laptops meld into the desks behind them, misshapen lamps hang mantis-like overhead, and milk cartons decay, left only partially complete and collapsing. The camera perspective churns slowly through the spaces, often at odd, skewed angles meant to evoke the feeling of being watched.
When you open the "Sonic Chatroulette" interactive page, you see yourself out in space with a digital earth turning slowly before you, and thirty small satellites in neat rows. Click one, and it plays a small sound reminiscent of Herndon's "Chorus." This is a shared space — other users can enter anonymously, click on the satellites, and beatbox and remix the original composition, appearing to others only as cursors on the screen.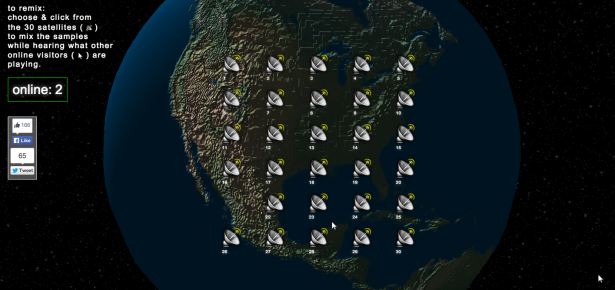 The 30 sounds selected for the interactive are from a small sample of the thousands used in "Chorus." The digitally rendered earth can be manipulated by pulling at it, and scrolling in, out or right through it, giving it the same malleability as the sloppy workspaces from the video.
The collaborative part of the interactive doesn't carry the same weight as the video. When we checked in, it was sparsely populated, so when we clicked around the satellites, the singular sighs and snare hits were met only with silence. On one occasion, another anonymous cursor entered the space, clicking on a few satellites, pinging a few sounds. We tried to follow along, but without any chat function or medium for communication, there was no coordination or context. Did they notice us as well, waiting and watching for our next move?
The nameless user, after only a minute and a few sonic thrums, left us sitting alone again in simulated digital space.